BlackBerry launches 'Passport' smartphone with square touchscreen & QWERTY keypad for Rs 49,990 in India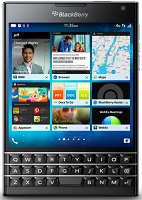 After unveiling the same earlier this month, struggling Canadian handset manufacturer BlackBerry (previously Research in Motion or RIM) has launched its latest smartphone in the Indian market. Christened Passport (because it essentially looks like one), the smartphone sports a square touchscreen- which is pretty unconventional for a smartphone these days- as well as a QWERTY touch-enabled keypad.
Targeted at enterprise customers, BlackBerry claims that the smartphones' screen is designed for a better web browsing, reading, editing, and maps experience, in comparison with its rectangular counterparts (like the iPhone, Galaxy S5, HTC M8 and so on). Inspired by actual passports, the size and form factor of BlackBerry Passport is portable enough to tuck into pockets (think suit pockets of business professionals).
The device also includes a touch-enabled keyboard with gestures that make typing, editing and navigating more accurate. According to the company, the Passport's new QWERTY keyboard is almost four times more accurate than BlackBerry 10 virtual keyboards, so there are fewer typos. The smartphone, along with Porsche Design P'9983 smartphone, are also the first devices from the company to launch on BlackBerry's latest OS platform- BlackBerry 10.3.
Priced at a whopping Rs 49,990, the device is available for pre-booking at Amazon.in and at all BlackBerry exclusive stores starting today till October 10, 2014. Note that customers who pre-book the smartphone on Amazon.in will also receive a gift card worth Rs 5,000 that can be redeemed for future purchases on the e-commerce site.
Here is a look at the specifications of the device.
The smartphone sports a 4.5 inch LCD square touchscreen display (1440x1440 pixel resolution) with pixel density of 453 ppi and a 1:1 aspect ratio. The physical QWERTY keyboard comes with 29-keys and a responsive touch surface like a track pad that lets you perform many touch functions directly on the keyboard. You can scroll web pages, flick to type or slide along the keys to move the cursor, leaving the full screen space for viewing. It is powered by a 2.2GHz quad-core Qualcomm Snapdragon 801 processor and runs on the BlackBerry 10.3 OS. It has 3GB of RAM and 32GB of internal memory that can be further expanded up to 128GB with a microSD card.
The device has a 13 megapixel autofocus rear camera (with Optical Image Stabilisation) with LED Flash that can also record full high definition videos (1080p) at 60 frames per second. In addition, it has a 2MP fixed-focus front facing camera for video calling that can also record HD videos (720p). On the connectivity front, the device has Bluetooth 4.0, Wi-Fi, 3G and 4G LTE, as well as a microSD slot and a microUSB port.
The dimensions of the device are 128mm x 90.3mm x 9.3mm and it weighs 196 gm. The company has provided a 3,450 mAh battery in the device which it claims will provide up to 18 hours of talk time and 18 days of standby time. It comes with Near Field Communication (NFC), stereo FM radio with RDS and has GPS (with A-GPS support). It will be available in black and white colours.
Here is an official Passport unboxing Video from BlackBerry.
The smartphone also comes preloaded with new productivity-enhancing features including BlackBerry Blend and BlackBerry Assistant, as well as the BlackBerry World storefront and Amazon Appstore.
BlackBerry Blend: Brings messaging and content that is on your BlackBerry smartphone to your computer and tablet. Get instant message notifications, read and respond to your work and personal email, BBM or text messages, and access your documents, calendar, contacts and media in real time on whatever device you are on. Introduced on the BlackBerry Passport, the feature will work across desktop operating systems, including Mac OS X 10.7 +, Windows 7+ and Android tablets running Android 4.4+ via cellular, USB or Wi-Fi connections.
BlackBerry World & Amazon Appstore: BlackBerry World showcases essential productivity apps for business professionals. In addition, preloaded on BlackBerry Passport, users can access popular consumer apps through the Amazon Appstore, including latest Android games and apps such as Minecraft - Pocket Edition, Candy Crush Saga, Pinterest, Temple Run 2 and Cut the Rope 2, among others.
BlackBerry Assistant: BlackBerry's first digital assistant that can be used with voice and text commands to help users manage work and personal email, contacts, calendar and other native BlackBerry 10 apps. The company's answer to Apple's Siri and Google Now, BlackBerry Assistant intelligently determines how to respond to you based on how you interact with it – if you type, it responds silently, if you speak, it speaks back and if you activate over Bluetooth, it speaks back with additional context since it assumes you might not have access to the screen.
Comment(s)