Online cab booking service Ola rolls out in-app digital wallet for payments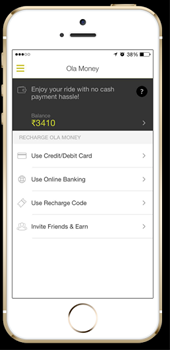 Olacabs, an online marketplace for cabs and car rental services, has launched an in-app digital wallet that allows customers to recharge their accounts via credit/debit cards or online banking accounts from its mobile app.
Users can recharge their account for a sum anywhere between Rs 100 to Rs 5,000. The available balance is automatically deducted from the customer's wallet against the final fare after the ride is completed, and a receipt of the same would be e-mailed to them.
This feature will also enable customers to gift rides to friends and family, and the amount will be deducted directly from the account from which the cab was booked. Customers can also recharge during their ride, and access transaction history and usage.
Ola has also revamped its design and interface, and added new features. The app now has the photograph of the driver displayed in it, along with his phone number and the number of the cab. Additionally, the app enables customers to share their location with friends/relatives while they are travelling, by forwarding an SMS with a unique link that will track the cab on a map in real time as well as display details of the driver and the cab.
The app also enables a single view of ETAs (estimated time of arrival) across categories, which allows customers to compare fares by category as well as to ask for a ride-time and fare estimate.
"We are very excited about the possibilities that our mobile wallet offers and firmly believe that our customers will love this cash-free experience. We have added a host of additional and unique features in the latest app. These features, along with offering a great travel experience, will also make travelling within the city more convenient and secure for everyone," said Harsha Kumar, head (products) at Ola.
Olacabs was founded in January 2011 by IIT Bombay alumni Bhavish Aggarwal and Ankit Bhati. Prior to Olacabs, Aggarwal was working as assistant researcher at Microsoft Research, India, while Bhati was working as system administrator at Wilcom. The services provided by Olacabs include point-to-point services within the city, hour-based rental services and bookings for outstation travel.
Run by Mumbai-based ANI Technologies Pvt Ltd, Ola currently has over 25,000 cars available across 15 cities. The firm said that over 70 per cent of Ola's bookings come via the app which is available across Android, iOS and Windows platforms.
The firm recently raised Rs 250 crore ($41.8 million) in its Series C round of funding led by Hong Kong-based equity hedge fund Steadview Capital and Silicon Valley-based Sequoia Capital. Existing investors Matrix Partners India and Tiger Global Management have also participated in this round.
In November last year, Olacabs had raised its Series B round of funding led by Matrix Partners India for a big minority stake, with participation from existing investor Tiger Global Management. Although the company had not disclosed the amount at the time, media reports pegged it at $20 million. Prior to that, it had raised Rs 19.2 crore ($3.2 million) from existing investor Tiger Global in July the same year.
Back in 2012, the company had raised over $5 million in its Series A funding from Tiger Global. Prior to that, it had raised angel funding from a bunch of individual investors, including Rehan Yar Khan and Anupam Mittal.
Comment(s)