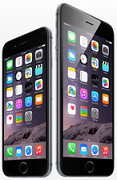 After unveiling the same last month, Apple has finally put a launch date against its latest iPhone models for India. Called iPhone 6 and iPhone 6 Plus, the devices will go up for pre-order starting tomorrow and will be available in the country from October 17, 2014.
Note that instead of a regular high-priced model and a cheaper version targeting the mid-price segment (like iPhone 5s and 5c); this time around the company has opted for a combination of a smartphone and a phablet. Both the devices sport bigger Retina HD displays, and feature a unibody enclosure of anodised aluminium. They are also the thinnest iPhone offerings by the company.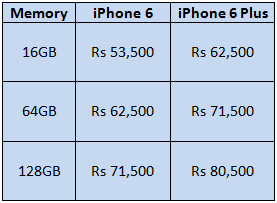 In India, the smartphone/phablet will be available from a network of Apple authorised resellers that include companies like Ingram Micro, Redington, Rashi Peripherals and Reliance. A number of e-commerce stores (like eBay) are also offering the new iPhones.
In terms of pricing, the 16GB models of iPhone 6 will be available for Rs 53,500, which is the same price at which the iPhone 5s was launched last year (see table below). The 64 and 128GB models have been priced at Rs 62,500 and Rs 71,500 respectively. In comparison, the 16GB model of the iPhone 6 Plus will be available for Rs 62,500, while the 64 and 128GB models are priced at Rs 71,500 and Rs 80,500. So expect them to burn a deep hole in your pockets (maybe even burn all your clothes) this Diwali season.
Specifications
Processor & memory: Both the iPhones are powered by Apple's A8 chip with second generation 64-bit desktop-class architecture, which is supported by a M8 motion coprocessor. And with 'Metal'- a new graphics technology in iOS 8- developers can take performance of the A8 chip even further to bring console-class 3D games to the iPhone. In terms of internal memory, users will have a choice between 16, 64 and 128GB models.
Camera: The devices sport a new 8 megapixel autofocus iSight camera (has Focus Pixels for faster autofocus) with True Tone flash that can record full HD videos (1080p) at 30 fps or 60 fps, as well as Slo-mo videos at 120 fps or 240 fps. They also have a 1.2-megapixel front facing FaceTime camera (with backside illumination sensor) that can also record HD videos (720p).
Connectivity: On the connectivity front, they have Bluetooth 4.0, Wi-Fi, 3G and 4G LTE. The devices also come with GPS (A-GPS and GLONASS) and will be available in silver, gold and space grey colours. Similar to the iPhone 5s, the fingerprint identity sensor in the new iPhones is built into the 'home' button.
Wi-Fi calling: In addition to video calls, users will now be able to also make FaceTime audio calls from the new iPhones to any FaceTime audio-enabled device over LTE (VoLTE) as well as Wi-Fi.
iOS 8: Both models also include iOS 8, the latest version of Apple's mobile operating system. To improve one-hand functionality of the devices, Apple has shifted the power/wake button to the side of the new iPhones. Users can also simply double tap anywhere on the screen to slide it down, in order to improve the reach ability factor of the devices.
Differentiators
The iPhone 6 features a 4.7-inch LED-backlit IPS LCD capacitive touchscreen Retina HD display (1334 x 750 pixel resolution) with 326 ppi pixel density. In comparison, iPhone 6 Plus offers a bigger 5.5-inch LED-backlit IPS LCD capacitive touchscreen Retina full HD display (1920 x 1080 pixel resolution) with 401 ppi pixel density.
Both of them come with built-in rechargeable lithium-ion batteries, and while iPhone 6 will provide up to 14 hours of talk time and 250 hours of standby time, its big brother will offer up to 24 hours of talk time and 384 hours of standby time respectively. The dimensions of iPhone 6 are 138.1mm x 67mm x 6.9mm and its weight is 129 gm. In comparison, the iPhone 6 Plus measures 158.1mm x 77.8mm x 7.1mm and its weight is 172 gm.
And if you feel paying upwards of Rs 60,000 (since 16GB is rarely enough memory) is absurd for a mobile phone- even if it has an 'I' in front of it- you can take our advice and opt for iPhone 5s or 5c instead. Even though the smartphones are just an year old, they are available for as low as Rs 31,500. You can read more about that here.
---