Yatra.com aims to hit $1B in gross bookings this fiscal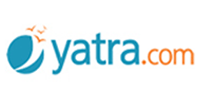 Gurgaon-based Yatra Online Travel Pvt Ltd, the company behind the online travel portal Yatra.com, aims to close the current financial year with gross bookings value of $900 million to $1 billion, Dhruv Shringi, co-founder and CEO of Yatra.com told Techcircle.in.
He did not share the company's comparable gross booking for the last financial year but said the firm has tweaked its planned strategy of achieving break-even this year to invest in the hotel and holiday packages business.
"Hotels and holiday packages online offers a great growth opportunity and the purpose today is to grow that market and look at from a share point of view. Our share today on the domestic front is about 7.5-8 per cent of domestic flight tickets. We think our share on hotel and packages also should reach that kind of a number in the near future," Shringi said.
"So our focus for the next 12 to 24 months is to continue to invest in the holidays and packages. If these elements had not been there then one would have adopted a slightly different path but given the kind of opportunity both of these offers it is a pretty secular growth market at the moment, so we want to invest in terms of growing," he added.
In an exclusive chat with Techcircle.in in April this year, Shringi had said that the company would break-even in less that a year.
Hotels and holiday packages typically carry double the margins of flight ticket bookings and all online travel agencies in the country had been trying to push up their presence in that segment.
Shringi said the in the last quarter Yatra derived 35 per cent of its revenues from hotels and packages while air tickets brought the remaining 65 per cent.. Two years ago this was 90:10 and heavily dependent on air ticket booking.
Yatra recently raised $23 million (Rs.140 crore) in April in an investment round led by IDG Ventures and Vertex Venture Management, the VC investment arm of Singapore's sovereign wealth fund Temasek, besides the existing investors. In total the company has raised $88 million so far.
Founded in 2006, Yatra competes with the likes of MakeMyTrip, ClearTrip, Expedia, Goibibo.com and Via, among others.
MakeMyTrip, the largest OTA in India, had achieved the milestone of $1 billion in gross bookings in FY13. The performance of OTAs, however, is judged more by the value of net revenues (excluding service costs) they earn.
Comment(s)