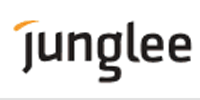 Junglee.com, the price comparison site owned by Amazon.com Inc., the largest e-commerce company in the world, is moving beyond product search to try its luck in the classifieds space. For the same, the company has added a 'Post Your Ad' feature to the site that will enable its users to post a free advertisement on the site in just three steps.
How it works?
To post an ad, users will need to describe the product they want to sell and choose its category. As of now, users can sell products in over 26 categories that include electronics, computer & accessories, kitchen & home, media & gaming, baby products, and musical instruments, etc.
Post that, they will need to specify the products' condition (new, used-like new, and used), the price at which it is being offered, as well as its photographs (at least one photo is required for the ad to go live). Additional details like your city, email address and contact number are also required.
Note that via this feature, the company is basically promoting local buyer and seller ecosystem, instead of focusing on online transactions. Sellers can directly connect with interested buyers and set up a meeting with them to complete the transaction in-person.
In an attempt to lure customers, for a limited time, Junglee is also offering its customers a chance to win a Google Nexus 5 smartphone. For the same, users will need to post one ad for a product they want to sell on the site during Oct 4-18, 2014. The company will enter the submissions in a lucky draw and a winner will be announced at the end of the contest.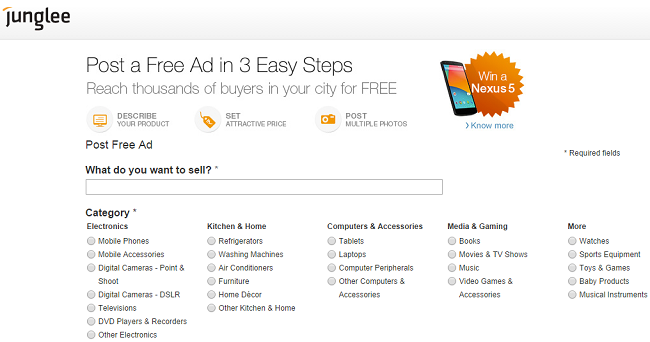 Launched in 2012, Junglee.com is an online shopping service that enables customers to find and discover products from online and offline retailers in India, and also from its parent site Amazon.com. Until today, consumers couldn't buy directly from Junglee and the site simply puts the users in touch with sellers by directing them to their websites, displaying their customer service phone numbers and providing their physical store locations so that they can buy the products directly from the respective sellers.
Earlier this year, Junglee.com began pivoting to a horizontal-commerce marketplace, and started enabling direct purchases via its site for categories like books and electronics. As of now, users can buy products directly on Junglee using the 'Pay with Amazon' service that allows users to make the payment using various methods already associated with their Amazon account.
Competition
In this space, the company will directly compete with the likes of online classifieds site Quikr.com, and OLX, a Naspers Group firm. Quikr claims to have a user base of over 30 million consumers and that small businesses across 1000 cities are using the site as of now.
In Feb this year, Junglee had entered into a strategic partnership with Quikr to enable its users to find locally available pre-owned consumer electronics products on the portal. Displayed under the section titled 'Related Product Listings' on the product pages of the site, consumers can view relevant classifieds for other similar pre-owned products, based on their current location.
It will be interesting to see what the future holds for this partnership, since with the new feature Junglee will fundamentally be poaching on Quikr's customers.
---