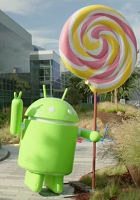 In addition to the Nexus 6 phablet and the Nexus 9 tablet (read here for more), Google has also introduced the next iteration of the Android operating system called Android 5.0 or Android Lollipop (now you know what the 'L' stands for), as well as the Nexus Player.
Previewed at Google I/O earlier this year (at the time the company was simply calling it Android L), the company claims that Lollipop is its largest, most ambitious release on Android with over 5,000 new APIs for developers. Here is a look at the features of Android Lollipop:
Material Design: The OS comes with a responsive UI design for consistent experiences across all your devices as you switch from one screen to another. Also, now content responds to your touch, or even your voice, and transitions between tasks are more fluid.
Pick where you left off: According to the company, with Lollipop, it's easier to pick up where you left off, so the songs, photos, apps, and even recent searches from one of your Android devices can be immediately accessed across all the other ones.
Improved Notifications: View and respond to messages directly from your lock screen. Also includes the ability to hide sensitive content for these notifications. You can now adjust your settings so that only certain people and notifications can get through.
For fewer disruptions, turn on 'priority mode' via your device's volume button, or schedule recurring downtime like 10pm to 8am. And when important notifications do come through, you can see them directly from the lock screen. Incoming phone calls won't interrupt what you're watching or playing, since you can choose to answer the call or just keep doing what you're doing.
Battery Saver: The battery saver feature extends device use by up to 90 minutes, which is helpful if you're far from a power outlet. Estimated time left to fully charge is displayed when your device is plugged in, and estimated time left on your device before you need to charge again can also be found in battery settings.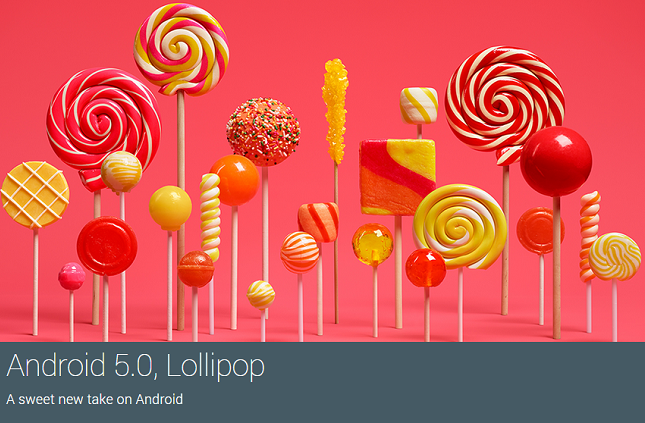 Enhanced Security: Users can secure their mobile phone or tablet with a PIN, password, pattern, or even by pairing it with a trusted device like their wearable (or even their car) with Android Smart Lock. The new Nexus devices also come with encryption automatically turned 'on' to help protect data on lost or stolen devices. And SELinux enforcing for all applications means better protection against vulnerabilities and malware.
Device Sharing: If you forget your phone, you still can call any of your friends (or access any of your messages, photos etc.) by simply logging into another Android phone running Lollipop. Guest user mode means you can lend your device and not your stuff, while Screen pinning will enable you to pin your screen so another user can access just that content without touching your other stuff.
New Quick Settings: Users can get to the most frequently used settings like flashlight, hotspot, screen rotation etc. with just two swipes down from the top of the screen. You can also manually adjust your brightness for certain conditions, post which adaptive brightness will kick in based on ambient lighting.
The company is using an entirely new Android runtime called ART, which it claims improves application performance and responsiveness. According to the company, with it, users will get up to 4x performance improvements, as well as smoother UI for complex, visually rich applications. In addition, improved network handoffs means that you can continue your video chat or VoIP calls without interruption as you leave the house and switch from your home Wi-Fi back to cellular.
The company has also added support for 15 new languages that include Bengali, Kannada, Malayalam, Marathi, Tamil, and Telugu, among others.
Nexus Player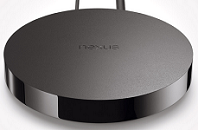 Built in collaboration with ASUS, Nexus Player is a streaming media player for movies, music and videos. It is also the first device running Android TV. According to the company, the console is designed to fit alongside the user's current home entertainment setup, and comes with a voice-activated remote for playing casual games and finding their favourite shows.
Users can pick from personalised recommendations that appear automatically on their home screen, and cast their favourite entertainment apps from their Android or iOS device, Mac or Windows laptop, or Chromebook to the TV. Content syncs across Android devices so you can start a movie on your TV and finish it on your tablet.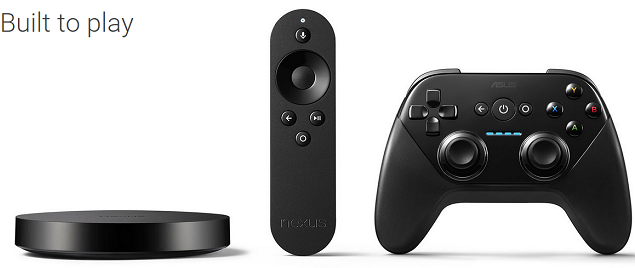 It is powered by a 1.8GHz quad-core Intel Atom processor, has 1GB of RAM and comes with 8GB of internal memory. On the connectivity front, it has Bluetooth 4.1, Wi-Fi, as well as a HDMI port and a micro-USB port. The dimensions of the device are 120mm x 120mm x 20mm and its weight is 235gm.
The company is also offering a 'gamepad' (sold separately) for Nexus Player that is engineered for fine-tuned control of the user's favourite Android games. In the US, Nexus Player will go on sale for $99 (Rs 6,119), while the gamepad will be sold for $39 (Rs 2,410).
---