Sify Q2 revenues rise 26% to Rs 316Cr; profit down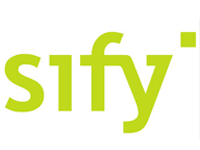 NASDAQ-listed Sify Technologies Ltd, a provider of managed enterprise, network, IT and software services, reported 26 per cent rise in its revenues for the second quarter ended September 30, 2014 to Rs 316 crore over the same quarter last year. While EBITDA for the quarter increased 8 per cent to Rs 45.6 crore, net profit for the period declined 15 per cent to Rs 9 crore.
"While we are seeing consistent revenue growth, there has also been an increase in our expenditures, which has created some pressure on our net profit. Much of this increase is due to depreciation associated with our newly opened Data Centres, along with some implementation cost incurred during the final stages of a large network integration project," Sify's CFO Vijay Kumar said.
During the quarter, the firm's telecom business increased 26 per cent over the previous quarter, while the data centre services business grew 31 per cent.
At the same time, the technology integration services soared five-fold over the previous quarter, while application integration services grew 42 per cent.
"Our order books reflect deeper engagements. The composition of our major client projects is also changing, with multiple services, longer tenures and earlier engagement, long before the change is due. This reflects positively on our efforts to promote our knowledge practices and our ability to service different size customers," said Kamal Nath, CEO of Sify.
Sify is an integrated ICT solutions and services company in India. A significant part of the company's revenue is derived from enterprise services, comprised of telecom services, data centre services, cloud and managed services, applications integration services and technology integration services. Sify also provides services that cater to the demands of the SMB community.
Comment(s)