Apple launches 27 inch all-in-one desktop iMac with Retina 5K display for Rs 179,900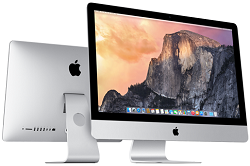 In addition to the iPad Air 2 and the iPad mini 3 (read here for more on that), Apple has also unveiled a new 27 inch all-in-one desktop iMac. The company has also updated Mac mini, it's most affordable Mac, with the latest technologies (a faster processor, better graphics, etc.) and is offering the same at a lower starting price.
In addition, the Cupertino-based company is now offering its latest OS X Yosemite as a free upgrade from the Mac App Store. Here is a look at the specifications of the new iMac.
The new iMac has a 27 inch IPS Retina display (5120x2880 pixels resolution) with 14.7 million pixels, which the company claims is four times as many pixels as the standard 27-inch iMac display. It runs on the OS X Yosemite operating system and is powered by a 3.5GHz quad-core Intel Core i5 processor (Turbo Boost up to 3.9GHz). It has 8GB of RAM and a 1TB fusion drive.
The graphics are provided by a 2GB AMD Radeon M290X graphics processor and Apple has also included a HD FaceTime camera for video calling. The iMac comes with built-in stereo speakers and dual microphones, and on the connectivity front, it offers Wi-Fi and Bluetooth 4.0. In addition to four USB 3 ports and a SDXC card slot, Apple has also provided two Thunderbolt ports and a Gigabit Ethernet (RJ-45 connector) in the iMac. The dimensions of the computer are 516mm x 650mm x 203mm and its weight is 9.54 kg.
While an exact India launch date for the desktop computer is not available as of now, it will be priced at Rs 179,900 in the country.
OS X Yosemite
After unveiling the same in June this year, Apple is now offering OS X Yosemite as a free upgrade today from the Mac App Store. Yosemite supports all Macs introduced in 2009 or later, as well as a few models introduced in 2007 and 2008. With Yosemite, OS X has been redesigned with a fresh look where controls are clearer, smarter and easier to understand, and streamlined toolbars put the focus on your content without compromising functionality, at least that is what Apple claims. Its features include:
Today view: The new Today view in Notification Center gives you a quick look at everything you need to know with widgets for Calendar, Weather, Stocks, Reminders, World Clock and social networks. You can even download additional widgets from the Mac App Store to customize your Today view. Spotlight now appears front and center on your desktop and adds new categories of results, so you can view rich suggestions from Wikipedia, Maps, and Bing, etc.

Safari: Has a new streamlined design that puts the most important controls at your fingertips. A new Favourites view gives you quick access to your favourite websites, and a new Tabs view displays thumbnails of all your open web pages in one window. Safari also gives you more control over your privacy, with separate Private Browsing windows and built-in support for DuckDuckGo- a search engine that doesn't track users.
Mail: With Markup you can quickly fill out and sign forms and even annotate images and PDFs from within Mail, while Mail Drop allows you to easily send large videos, images or files up to 5GB from the Mail app to any email address. Messages have a new look and deliver even more options for communicating with friends and family.
In addition, continuity features in Yosemite make your Mac and iOS device perfect companions. When your iPhone or iPad is near your Mac, Handoff lets you start an activity on one device and pass it to the other. Instant Hotspot makes using your iPhone's hotspot as easy as connecting to a Wi-Fi network. Also, SMS and MMS messages that previously only appeared on your iPhone appear in Messages on all your devices.
Comment(s)