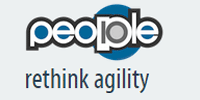 Bangalore-based People10 Technosoft Pvt Ltd, a new-age software services startup that provides custom solutions in web, mobile, cloud and data analytics, has secured an undisclosed amount in early-stage funding from a group of high-net-worth individuals (HNIs) based out of the US, a top executive of the firm told Techcircle.in. The HNIs invested the capital through a newly-formed angel network called Ideaworks Partners.
People10 will use the funds to ramp up its sales, alliance and marketing activities in the US.
"As a firm, People10 has grown organically in the last couple of years and this investment will help us accelerate our growth plan," said Rakesh Dahiya, co-founder and CEO of People10.
People10 was founded in 2011 by Dahiya and Nisha Shoukath. A MBA from Durham Business School (the UK), Dahiya was previously director and India head of corporate and investment banking technology at Société Générale, a global investment bank. Prior to that, he was associated with NIIT Technologies. Shoukath holds a master's in Computer Applications from CUSAT and master's in Advanced Project Management from Stanford University. Prior to starting People10, she was senior vice president (operations technology - India) at Société Générale. Prior to that, she had worked with a Swiss banking group in the Middle East and Canada.
People10 is an agile service company that crafts software in a distributed agile model working alongside teams from across the globe. The company claims its capabilities run across web applications, mobile apps, cloud-based development and data analytics. Currently, it serves around 30 clients, mostly in the US, including Barclays, Fidelity, PwC and HP. People10 has offices in Germany and Canada, besides Bangalore and New York.
"We are technology experts - be it open source Java stack, groovy with grails, LAMP stack, ruby on rails, mobile technologies or Microsoft frameworks - and provide custom development with agile engineering. We architect Greenfield products using fast design and develop methods, automate tests and deploys, at the same time aligned to client business goals with frequent and incremental show-and-tell product demos," said Shoukath.
According to Ideaworks Partners, there are a couple of factors that are going to create tremendous opportunity for companies like People10. "First factor is demand - global demand for IT services is going to be robust for the next decade as companies globally shift their business models to align to innovation in social, mobility, analytics and cloud (SMAC). Secondly, there is going to be significant demand from SMB segment in western markets and due to talent shortage, Indian IT industry would see some stars emerging with focus on SMB segment. The third factor is projects methodology and tools - agile, iterative-approach, lean, open-source, and collaboration are going to be the new ways of delivering projects. People10's strategy is at the intersection of these key factors that will shape the future of the IT industry," it said.
Rahul Tadimalla, partner of RSVP Capital Advisors, a boutique investment banking firm based out of Bangalore, was the sole adviser to the transaction.
---