Amazon launches Fire TV Stick, a Chromecast-like TV dongle for media streaming, for $39; what's on offer?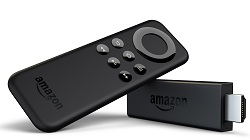 Earlier this year, world's largest e-commerce firm Amazon Inc, which runs an e-commerce marketplace in India through Amazon.in, had forayed into the home entertainment arena with the launch of a video and game streaming device called Fire TV for $99 (Rs 6,073). The company is now bringing the same experience to a smaller device for instant access to movies, TV shows, music, photos, apps, and games. Christened 'Fire TV Stick', the device basically enables you to stream media from a number of devices on to the largest screen – your TV.
One can simply plug it in to the HDMI port of the HDTV post which he/she can use the smartphone, tablet or laptop to send online content on to the TV screen via Wi-Fi. Priced at $39 (Rs 2,392) in the US, the device is available for pre-order and will ship Nov 19, 2014. As an introductory offer, the company is offering the device for just $19 (Rs 1,165) to its new and existing Amazon Prime members.
According to the company, Fire TV Stick will deliver instant access to a vast selection of content, including popular video and music services such as Netflix, Prime Instant Video, Hulu, WatchESPN, NBA Game Time, Prime Music, Spotify, Pandora, and PBS, etc. for instant access to shows like Transparent, House of Cards, Orange is the New Black, Game of Thrones, and The Wire. You can also rent or purchase over 200,000 movies and TV episodes from Amazon Instant Video.
Amazon Fire TV Stick features:
In terms of specifications, Fire TV Stick is powered by a dual-core processor and has 1GB of RAM. It come with 8 GB of storage and has dual-band, dual-antenna Wi-Fi. As large as a pack of gum, the device delivers Full HD video (1080p) and audio with Dolby Digital Plus surround sound. It arrives pre-registered so users can simply plug it in and start streaming, and the company has also included a separate remote control for better navigation and content discovery.
Fire TV Remote app: If you prefer to navigate using your phone as a remote control, the Fire TV Remote app (available for Android and Fire phones, with iOS coming soon) lets you navigate and manage playback from your phone. The app also features 'voice search' that is powered by the same voice search engine as Amazon Fire TV.
Instant streaming with ASAP: Advanced Streaming and Prediction (ASAP) predicts which movies and TV episodes you will want to watch and buffers them for playback before you even hit play.
Fling movies and TV shows: Users can 'Fling' movies and TV shows from their Fire tablet or phone to Fire TV Stick, turning their TV into the primary screen and freeing up their phone or tablet to provide playback controls, a customised display for X-Ray, or a place to email and browse the web.
Mirroring: Wirelessly mirror your display to your Fire TV Stick from Fire tablets and phone, as well as Miracast-enabled phones or tablets including devices from Motorola, Samsung, LG, and Google- without any additional apps or software.
X-Ray for movies and TV shows: Using 'Second Screen' on your Fire tablet or phone, you can see X-Ray information about cast and crew, the names of songs as they play, as well as a list of music in the movie or TV show. X-Ray for music displays lyrics and scrolls line-by-line automatically as the song plays.
Users can also play casual games like Monsters University, Ski Safari, and Flappy Birds Family, or play slideshows for the screen-saver on Fire TV Stick. In addition, the device also brings together features like Amazon's Whispersync technology- saves and synchronizes your video and music library across all of your devices; Archive- automatically backs up your Amazon digital content in the cloud; and a free month of Amazon Prime.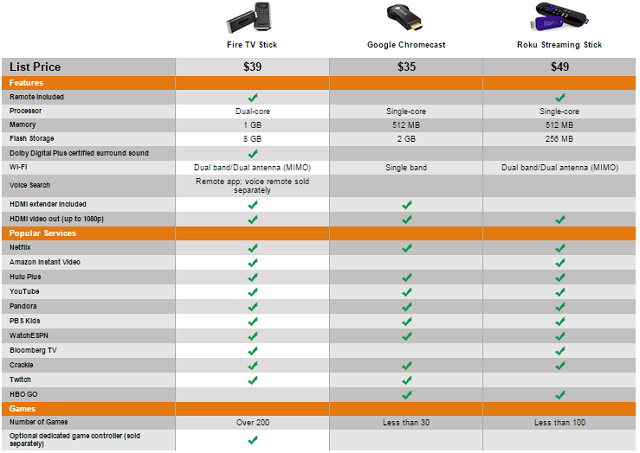 Competition
Last July, search giant Google had introduced a Chromecast TV dongle for media streaming. Apart from browsing and viewing content on the TV screen, you can also use the smartphone/tablet/laptop as a remote for performing functions like play and pause, volume control and more. Users can also multitask, sending e-mail or surfing the web, while 'casting' content on to the TV screen.
In addition, they can use the Chrome browser to project any browser tab on to the TV. This can be used for viewing pictures (from e-mail and sites like Facebook, etc.) or video clips from a news site.
According to Amazon, Fire TV Stick has 50 per cent more processing power and 2x the memory of Google's Chromecast, which only has single-band, single-antenna Wi-Fi. It further claims that the device has 6x the processing power, 2x the memory, and 32x the storage of Roku Streaming Stick, another competing product.
While the Google Chromecast is available for $35 (Rs 2,147) in the US, Roku Streaming Stick is priced at $49 (Rs 3,006).
Comment(s)