ShieldSquare uses Big Data analytics to protect online businesses from data theft, eyes Singapore expansion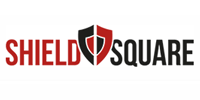 Data theft is a major concern for online businesses like classifieds sites, news portals, e-commerce marketplaces and online travel agencies (OTAs). The data harvested from these businesses via site-scraping tools is used to illicitly publish valuable information, gain competitor business intelligence, as well as to undercut a competitor's prices. Also, many of these businesses find it extremely hard to differentiate site scrapers from genuine web users or search engine crawlers.
This is where Bangalore-based Kaalbi Technologies Pvt Ltd comes into the picture. The startup has developed a solution called ShieldSquare, which 'shields' online businesses against web scraping and malware attack.
"We started ShieldSquare to address one of the major problems that most online businesses are facing today. We are building a technology that stops un-authorised scraping by bots (a kind of malware) and creates a level-playing field for online business to grow. ShieldSquare makes sure that there are no false positives, and genuine traffic or user experience is not hampered in the process," said Pavan Thatha, co-founder, ShieldSquare.
"Our solution uses Big Data analytics to block bots/scrapers in real-time, thereby increasing the traffic and revenues of online businesses, as well as cutting costs in terms of infrastructure and resources. Our technology helps businesses in protecting themselves against data thieves, scrapers and data harvesters by selectively showing additional challenges like captchas, and blocking access or feeding fake data to scrapers," he added.
The startup was founded in 2013 by siblings Pavan (CEO) and Rakesh Thatha (CTO), along with Vasanth Kumar (COO), Jyoti Kakatkar and Srikanth Konijeti. Pavan is a MBA from IIT Bombay and also holds a bachelor's degree from National Institute of Technology (Warangal). Rakesh holds a bachelor's degree in Computer Associates and a master's from IIT Madras.
Kumar comes with 15 years of experience in the area of software engineering, product development and online marketing. Kakatkar had earlier worked at companies like Verifone, HP and Arcot. Prior to ShieldSquare, Konijeti had worked at Sony and ABB.
The team had earlier founded ArrayShield, which provides a two-factor authentication product to banks. ArrayShield is being run as an independent entity.
ShieldSquare, which was incubated at Microsoft Ventures Accelerator in 2013, was also one of the five startups that presented at the recently-concluded Techcircle SaaS Forum 2014.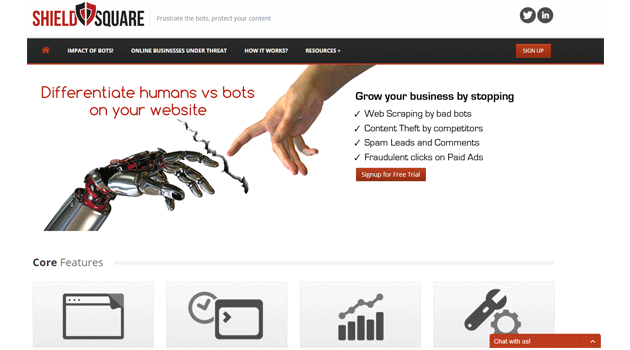 The startup recently raised $350,000 from a group of entrepreneurs and angel investors including Phanindra Sama, Charan Padmaraju and P Sudhakar – all co-founders of bus ticket booking startup redBus.in. The round also saw participation from Matrimony.com's co-founder Murugavel Janakiraman; Freshdesk co-founder Girish Mathrubootham; and Fusioncharts' founder Pallav Nadhani; besides Samir Sood, former M&A head (South Asia & Australia) at Google Inc. The round was led by Chandu Nair of Chennai Angels, Srini Kopparapu and Sanjay Anandaram.
The underlying technology
ShieldSquare uses advanced machine learning algorithms and Big Data analytics to block bots/scrapers in real time with no false positives. It uses a combination of dynamic bot challenge system (non-intrusive), behaviour pattern analysis, device & network profiling from where the website is accessed to identify, detect, assess and protect against site scraping activity done on the website. The solution is available as a subscription.
According to Pavan, conventional intrusion detection systems and web application firewalls are ineffective in stopping site scrapers. Existing solutions require businesses to either deploy an appliance in-house or the traffic to be re-routed through cloud servers. However, businesses don't want to have external dependency on third-party services that might impact their site's stability and performance.
"ShieldSquare's technology can be integrated with an API making customer adoption seamless. Hence, we are seeing customers opting for our non-intrusive API integration approach instead of re-routing their traffic through vendor servers," Pavan said.
The startup has already partnered with a few leading online businesses in India including IndiaProperty.com, SlideRule and Kobster. Pavan said that ShieldSquare is already analysing millions of traffic requests on a daily basis, and the startup is also getting traction in Singapore, where it sees huge opportunities.
Opportunities
It is estimated that more than 60 per cent of web traffic is non-human and created by bots. Scraping has become a very lucrative business, making it very difficult for original content owners to protect their content. As web traffic goes, scrapers/bots will increase further, making the need for a scraping prevention solution that much more relevant.
"We have already started working with customers outside India and are planning to aggressively expand to other geographies in the coming quarters," said Pavan. The company recently opened an office in Bangalore and moved its headquarters to the city.
Comment(s)