Mobile phone directory Truecaller launches smart dialler app Truedialer, available for Android & Windows Phone platforms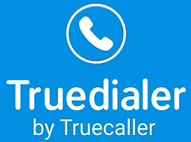 Swedish startup True Software Scandinavia AB, the firm behind Truecaller, a collaborative mobile phone directory app, has launched what the company claims is a smart dialler app. Called Truedialer, the new service automatically searches for information about a number you are dialling. The dialler uses a numeric pad to help find numbers within your phonebook, and beyond your phonebook with Truecaller integration.
As a user types in a number, Truedialer searches the user's own contact list as well as Truecaller's database of numbers. The service then gives you instant access to relevant information about people you are about to call, even if they are not in your contact list, and lets you save the information into your phonebook for later use.
"Since the first sighting of the Android smartphone back in 2008, many of the phone's native apps have gone through improvements throughout the years; except the dial pad. It is 'ordinary' and has been in much need of a new look and way of searching for the people you want to contact. It is for this reason that we are introducing Truedialer," read an official company blog post.
Here is an introductory video of the service.
Truedialer vs. Truecaller
According to the company, while both the apps cater to different needs of customers, they will complement each other for a better phonebook experience. Truecaller helps people block nuisance calls from numbers they don't know, as well as in identifying incoming calls. Truedialer, on the other hand, will help users find who they are looking for when they are ready to make a call.
If the person is in your phonebook – Truedialer will find them – and if the person is not in your phonebook, Truedialer will look into the Truecaller service to help find the right contact. While the app is currently available free of cost on the Android and Windows Phone platforms, there is no word from the company on an iOS launch.
Founded in 2009, Truecaller is a collaborative global phone directory. It is available on the web and as an app for the iPhone, Android, BlackBerry, Symbian S60, Series 40, and Windows Phone. The company has 85 million users globally.
Earlier this month, Truecaller had raised $60 million in funding by Atomico, Kleiner Perkins Caufield & Byers (KPCB) and existing investor Sequoia Capital. The company also inducted John Doerr of venture capital firm KPCB and Jerry Murdock, co-founder of Insight Venture Partners, in the board of the company.
Prior to that, the company had raised $18.8 million in funding led by Sequoia Capital in Feb this year.
Comment(s)