Ad tech firm Ozone Media appoints Raj Beri as its COO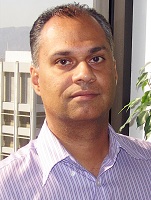 Bangalore-based advertising technology and product company Ozone Media has appointed Raj Beri as its chief operating officer (COO). In his new role, Beri will oversee the company's engineering, product development and day-to-day operations.
Beri will be a part of the company's executive leadership team, and will focus on scaling its operations, supervising engineering, product, customer service, account management and human resources (HR). He will also focus on speeding up time-to-market of new products, and be involved in strategic planning. According to the company, Beri's extensive experience in the travel space will help bring new insights for product development for Ozone Media's SaaS platform 'Adadyn'.
Commenting on the appointment, Kiran Gopinath, founder and CEO, Ozone Media, said, "Beri brings an intimate understanding of the challenges and possibilities associated with this technology. He brings a wealth of knowledge from the end-user perspective, which will allow us to better map to our customers' long-term needs and media goals."
"As a long time end-user of programmatic and dynamic creative optimisation, I experienced firsthand how many of these offerings were not accessible to the middle market from both an ease-of-use stand point and pricing perspective. Ozone's ability to meet this need, its team of ad tech executives, and growth rate compelled me to help grow this company to better address this massively growing market demand," added Beri.
Beri has over 12 years of experience in the ad tech and digital media industry, and prior to joining Ozone Media, he was the co-founder and GM at WanderWe, an online travel startup. Before that, he was the VP and GM at Oversee.net. He had earlier also worked at companies like IgoUgo (a Travelocity Business Unit) and McGraw-Hill Education, among others. He currently also serves on the advisory board of AdventureLink, an online tours and activities platform. An undergraduate in Aerospace Engineering from University of Toronto, Beri also holds a MBA degree in Entrepreneurial Management from The Wharton School of the University of Pennsylvania.
Started in 2006, Ozone Media Solutions Pvt Ltd is an IDG Ventures India funded ad technology and product company that is focused on simplifying re-targeting and programmatic for the middle market. In September this year, the company claimed to have reached a milestone of 100 million daily impressions on mobile.
This growth was fuelled by an increasing number of partners embracing real-time bidding (RTB) as the preferred source of mobile inventory. Earlier this year, the company had also entered into a partnership with AppNexus, an independent advertising technology company, to expand its global presence.
Comment(s)