India's overall tablet shipments for the third quarter of 2014 stood at 0.94 million units, recording a quarter on quarter increase of 10 per cent over Q2, 2014, as well as the strongest year to date growth, fuelled by festive buying and strengthening commercial demand.
According to a report by International Data Corporation (IDC), the tablet market in India started on a lower note because of Bureau of India Standards (BIS) compliance requirements, which seemed to have settled with the vendors now.
"The initial phase of impulsive buying seems to have faded, as the consumers are more aware of the use case of tablets now. Therefore, the current size of the market looks more realistic and stable," said Tanvi Mann, market analyst, IDC India.
"Due to continuous onslaught from the 'phablets' (defined as 5.5-6.99 inches screen size smartphones), small screen tablets are taking a hit and there is more uptake on tablets which are screen sized between 8-9 inches. This has however led to an overall improvement of the average selling price for the category," added Kiran Kumar, research manager, client devices at IDC India.
Interestingly, with more than 90 per cent market share in Q3, 2014, Android operating system is expected to dominate the market in the foreseeable future as well. Windows-based tablets priced under $200 are expected to accelerate the adoption rate, although from a low base.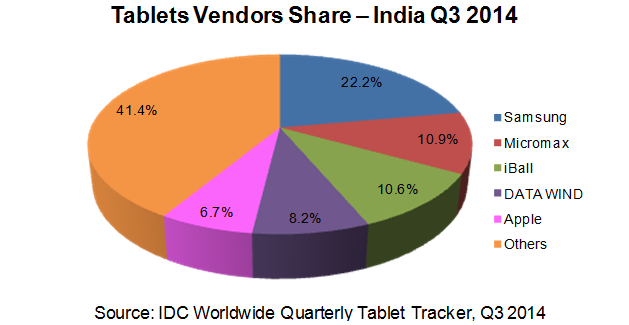 Top tablet vendors
Samsung maintained its dominance with 22.2 per cent market share in Q3, 2014. With fresh product line in the premium segment, the brand fared well on the higher screen sized tablets and led the market by a wide gap to its next competitor.
Micromax came second with 10.9 per cent of market share. However, the company saw a decline of 15 per cent in Q3 against the previous quarter. The first month of the quarter was good for the vendor, but shipment 'sell-ins' contracted in August and September 2014.
With more exposure on the low-cost connected tablet segment, iBall made it to the top three. According to IDC, the swift pace at which the brand is getting acceptance by the audience is excellent, and a majority of iBall's volumes are consumer driven. Datawind and Apple completed the top five with 8.2 and 6.7 per cent market share respectively.
What's in store?
Owing to seasonality, there will be lesser intake in Q4, 2014. However, for CY 2015, the commercial segment is likely to grow in comparison to a stable consumer tablet market. Government projects and government aided education projects should remain vital to the growth in commercial tablets.
"We are likely to see increased activity by PC original equipment manufacturers (OEMs) in the tablets space with a focus on the 7 and 8 inch form factor," concluded Tanvi.
---