Rocket Internet-backed on-demand home services venture Helpling raises $17M from Mangrove Capital, others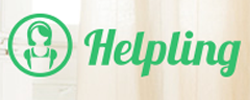 Rocket Internet-backed on-demand home services venture, Helpling, has secured $17 million in its Series A round of funding from a group of VC firms including Mangrove Capital Partners and Phenomen Ventures, and Point Nine Capital, with participation from Lukasz Gadowski, chairman of online food delivery major, Delivery Hero.
The capital raised from this round will be used for expansion to more markets, the company said in a press release.
"We are already a widely-available cleaning platform, and the investment will help us to expand our business further. We will continue to focus on creating the best experience for all of our users," said Benedikt Franke, co-founder of Helpling.
Started in Berlin in March this year, Helpling allows users to book for professional cleaners. Users can type in their address and the number of rooms to be cleaned, and then select a convenient date. A specially-designed algorithm then finds the perfect cleaner for the user.
The pricing starts at $19 per hour. Currently, the firm has operations in over 150 cities in eight countries across Europe and Latin America.
"Home cleaning used to be for a relatively niche audience. Adding flexibility, convenience and security at competitive prices enables more people than ever to benefit from these services. We want to give people more free time and an ever more enjoyable experience at home," said Philip Huffmann, the other co-founder of Helpling.
Helpling is supported by Berlin-based internet incubator Rocket Internet. "Helpling is built on an attractive business model and has developed a market-leading service in eight countries within the space of just eight months. The company's scale and achievements are highly impressive," said Hans-Jürgen Schmitz, co-founder and managing partner of Mangrove Capital.
Comment(s)