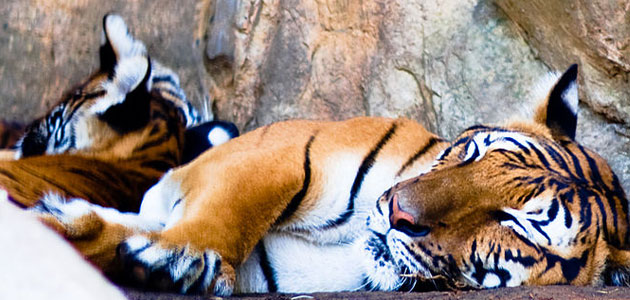 When Tiger Global Management, the $15 billion investment firm, invested in Indian e-commerce companies like Flipkart a couple of years ago, it marked the beginning of the entry of large foreign investors in the country. Tiger has invested close to $1 billion in 58 deals in India – mostly e-commerce and web services companies. Tiger has done seven rounds in Flipkart alone. Early this year Russia's DST global invested in Flipkart and Housing.com.
This isn't an article about Tiger. In fact, Indian tech has now attracted capital from almost every type of investors -  global tech investors like DST, sovereign wealth funds like GIC and Temasek, pension funds, fund-of-funds, hedge funds and so on. This is not a story about them either.
Now it's the time for cubs "the offshoots of these large funds – to invest in Indian companies. And, of course, a party started by giants like Tiger Global can't leave the cubs in the lurch.
There are at least half a dozen hedge funds, which have once worked under or received some backing from hedge fund titans like Tiger boss Julian Robertson and are now investing in India vigorously. Sample them:
Steadview Capital, headed by Ravi Mehta, who cut his teeth as an Asia analyst for ex-Tiger cub Lee Ainslie's Maverick Capital, has invested in three tech companies with a significant India presence. The decision to leave Maverick at the end of 2008 wasn't the safest thing for Mehta to do, but the young manager, who was aged just 27 then, was hungry to prove himself and develop a track record. The India-focused hedge fund, which got seeded by Goldman Sachs (Asia) chairman Mark Schwartz, has quickly swollen to $500 million in nearly five years.
In July this year, Steadview Capital led $41.8 million funding round in online marketplace for cabs and car rental services Olacabs. In the same month, the fund led a $20 million in Urban Ladder, a Bangalore-based curated online marketplace for furniture. Steadview could not be contacted for comments.
Rajiv Srivatsa, co-founder and COO of Urban Ladder, had told VCCircle that the firm approached Steadview for an investment. "We do approach investors on a regular basis and our first conversation happened long back. Steadview is basically a tech-oriented fund looking to invest in fast-growing startups. They were impressed with our growth and we saw a lot of synergies between us."  Steadview has also invested in Saavn (South Asian Audio Video Network), a US-based Indian digital music service.
Then there is Falcon Edge Capital, founded in mid-2012 by Richard Gerson, a Tiger grand-cub, which has now started investing in Indian internet companies. Gerson was a founding member of John Griffin's Blue Ridge Capital, which is a cub of Tiger.
Falcon Edge, with more than $1.2 billion in assets according to regulatory filings, is an investor in Foodpanda.com (also known as Hellofood), a Rocket Internet-backed global, multi-location online food ordering marketplace with operations in 40 countries including India. In August this year, Falcon along with Rocket Internet infused $60 million into the firm. A recent media report suggested that Mumbai-based real estate portal Housing.com is close to sealing a $40-50 million funding round being led by the hedge fund. Falcon Edge declined to comment for the story.
It's not just Tiger's cubs that are investing in India—there are other offshoots as well. Latest entrant in Indian tech investing scene is Vy Capital, a spin-off from Yuri Milner's DST Global. Vy was co-founded by former DST partner Alexander Tamas in March 2013. Tamas, who was with DST from 2008 to 2013, also had a reputation of being Milner's human supercomputer. The investing whiz has placed some of the most impressive investment bets in the history of tech industry, including Facebook, Zynga, Groupon and Twitter. A Forbes report also said that he is on speed-dial for everyone trying to build the most successful, highest-scale, global Internet companies today.
Through a series of transactions he also helped consolidate a number of leading Russian internet brands under Mail.ru Group and subsequently led the $7 billion IPO of the company. Alexander was a board member and managing director of Mail.ru.
Recently, Vy Capital led a $60 million funding round in Gurgaon-based Zomato Media Pvt Ltd, which owns the popular restaurant and event-listing site Zomato.com. The round also saw participation from existing investors – Info Edge and Sequoia Capital.
So why this rush? It's simple—India is one of the fastest growing internet markets, only second to China. According to a Credit Suisse report, India appears to be six-nine years behind China, and Indian internet market also appears to be at a point similar to the 'tipping point' for Chinese internet market. Since 2006 (when China's internet penetration was similar to India and the proportion of online retail shopping was also nearly the same as India), China's e-commerce sales have seen a 90 per cent  CAGR—from $3.3 billion (in 2006) to over $290 billion in 2013, says the report. Chinese e-commerce now has a market cap of over $550 billion.
So if you are an investor in tech, you can't ignore India.
Now will it result in a cheap capital-turned-to-bubble kind of situation? Only time can tell. "What is happening in the Indian internet sector is akin to a land grab being driven by 'momentum investors' who just want to make sure that they are present in these categories and companies before it's too late. And like most land grabs, it leads to a classic bubble-like situation," Pradeep Tagare, director, Intel Capital India, told VCCircle in a recent interaction.
He also added that there are all kinds of investors – family offices, pension funds, hedge funds – who have little clue of what's happening in India and they are just following suit ignoring many glaring risk factors.
If Indian internet proves to be deep enough, Tagare might take back his words.
(Additional reporting by Sainul Abudheen).
Also Read: Does e-commerce investment frenzy look like a land grab or is it fundamentals-driven, VCs debate
---