Google's video-sharing service YouTube has finally enabled Indian users to watch videos offline on its mobile apps. What this means is that users in the country will be able to download a video clip on their YouTube app when they are connected to the internet, and watch it offline later.
For videos where this feature is available, users can choose to add the video for offline viewing by tapping on the 'offline' icon that sits under the video frame. Not that once taken offline, videos can be played back without an internet connection for only up to 48 hours (or two days).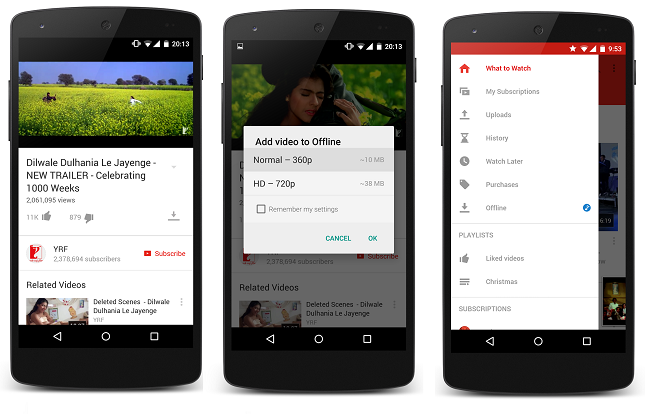 "Access to high-speed, affordable data remains a big challenge for our Indian YouTube fans, so we have been working on creating new ways to use our product with a lesser burden on data and speed," wrote Jay Akkad, product manager, YouTube in an official company blog post.
"Today we are releasing a new offline feature within the YouTube app, in India. This feature lets people take videos offline to watch later during short periods of low or no internet connectivity," he further added.
As of now, YouTube videos that are available for users to view offline include content from companies like T-Series, Saregama and Yashraj Films. According to the company, making these videos available for offline playback will help people move past the challenges of data connection, speed and cost to enjoy a buffer-free version of their favourite content.
"YouTube Offline is just a start. We hope to keep finding better ways to make video content more affordable and accessible to our growing base of YouTube mobile users in India," said Akkad.
Last month, YouTube had introduced a music subscription service for ads-free music, background play and offline viewing. Called YouTube 'Music Key' beta, the service lets its users watch and listen to music without ads, in the background or offline. A monthly subscription service, the company will offer it for a promotional price of $7.99 (Rs 491) per month, discounted from $9.99 (Rs 614) per month.
This will also include a subscription to Google Play Music, with over 30 million songs, expert-curated playlists, and in the coming days, the ability to watch many YouTube official music videos right from the app. Being launched as a beta for a select few music fans, the company will bring YouTube Music Key to everyone later.
The company had also added a new 'home' menu just for music on user's YouTube app for Android, iOS and on YouTube.com that will show their favourite music videos, recommended music playlists (based on what they are into) and playlists of trending music across the video-sharing site.
---