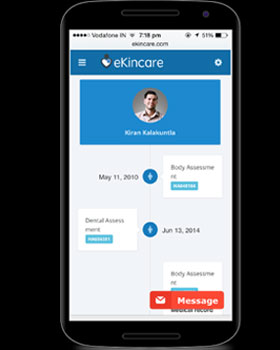 Hyderabad-based Aayuv Technologies Pvt Ltd, the company behind eKincare, an online platform that enables users to monitor their critical medical information and view it anywhere anytime, has secured an undisclosed amount in funding from city-based tech incubator-cum-seed fund BitChemy Ventures.
eKincare will use the funds to enhance its core platform and recommendation engine, in addition to expanding its data scientists team, its founder Kiran Kalakuntla told Techcircle.in.
The startup was founded early this year by Kalakuntla, an alumnus of Duke University. Prior to setting up the healthcare venture, he worked at companies including AT&T, Alltel, Maureil Patent Practice, and NetCentrics.
eKincare is focusing on personalised, preventive and predictive healthcare. It enables users to assess, track and stay informed about their well-being. Users can monitor and view their medical information anywhere, anytime.
eKincare gathers medical results from various healthcare service providers, updates the profiles, and provides a platform to view them. It then identifies potential health risks and informs the users, and motivates them to take necessary steps towards improving their health.
Currently in private beta, the platform will go live in the second week of January. eKincare is also working on a mobile app.
"At BitChemy, we are always looking for tech companies that can change how an industry works. As the Indian healthcare story evolves, there are tremendous opportunities for this to happen. We believe eKinCare's approach of combining digitisation with deep analytics and home healthcare could offer tremendous value to end consumers and change the rules of the game," said Sunil Motaparti, founder & director of BitChemy.
Incorporated in 2012, BitChemy Ventures is a seed fund-cum-tech incubator that identifies opportunities by analysing the technology landscape and partnering with motivated entrepreneurs. BitChemy, which invests around $300,000 in each startup, is planning to invest in half a dozen startups in 2015.
In December last year, BitChemy had invested $6 million in three startups—3LOQ Labs, Cafyne Inc and Altiux Innovations.
(Edited by Joby Puthuparampil Johnson)
---