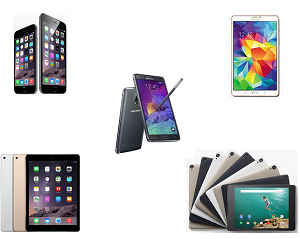 After already covering topics like the 'Top ten fund-raising in e-commerce and consumer internet', and the 'Top VC investments in software-as-a-service (SaaS)', in this segment, we will focus on the top gadgets that were launched during the course of the year. These devices made customers gush in delight and also proved to be game changers for some of the manufacturers in the global arena (case in point Xiaomi).
For the sake of convenience, we have divided the gadgets into two sections that include 'Top smartphones' and 'Top tablets'. In each section, we will feature the top 3 gadgets, followed by a few honorary mentions.
Top Smartphones of 2014
iPhone 6 (Rs 53,500)
When Apple finally took the wraps off its next iPhone, the company claimed it was the biggest advancements in iPhone history. With a tagline of 'Bigger than Bigger', the device sported a bigger Retina HD display, and featured a unibody enclosure of anodised aluminium. It was also the thinnest iPhone offerings by the company. But that was about all that was unique about the device, which many called a HTC One rip-off. The fact that the smartphone still made it to the top three just goes on to show the power of the brand 'Apple'.
Note that instead of a regular high-priced model and a cheaper version targeting the mid-price segment (like iPhone 5s and 5c); this time around the company opted for a combination of a smartphone and a phablet (iPhone 6 Plus).
Galaxy Note 4 (Rs 58,300)
A well rounded phablet from Samsung's stable, Galaxy Note 4 brought the age-old culture of the pen and notepad into the digital world- similar to its predecessors. Boasting of high end specifications and a 5.7 inch Quad HD display, the device did not let its users go wanting. The only minus point of the device was its close to Rs 60,000 pricing, which burned a hole into the buyer's pockets.
Galaxy Note 4's S Pen was also specifically evolved to offer a much more authentic pen experience, with a natural brush effect that emulates writing on paper with a fountain or calligraphy pen.
Motorola Moto G (Rs 12,999)
In a world dominated by the likes of Apple and Samsung, Lenovo-owned Motorola's Moto G came as a surprise entry in the smartphone market. Launched earlier this year, the smartphone was a perfect mix of hardware and pricing, so much so that the company followed it up with a second iteration of the smartphone within six months of its launch.
Probably the best Android smartphone of the year, it gave customers without deep pockets (for an iPhone or Galaxy) a good alternative at an even greater pricing. It also provided struggling Motorola a new lease of life.
Honorary mentions: Xiaomi Redmi 1S, LG G3, HTC One (M8), and Sony Xperia Z3.
Top Tablets of 2014
Apple iPad Air 2 (Rs 35,900)
A successor to the original iPad Air, the iPad Air 2 was 18 per cent thinner than its predecessor and weighed less than a pound. It also came with a new iSight camera that Apple claimed is its best iPad camera yet. With full HD videos (1080p) recording capabilities, the tablet's camera also boasted of features like time-lapse video, video image stabilisation, photo & video geotagging, panorama (up to 43MP), and burst mode, etc., bringing it at par with a smartphones' camera.
Both sleek and powerful, the tablet was a must buy for Apple fans. No wonder it is still the reigning champion in the tablets segment. As Apple has rightly put, iPad Air 2 is 'so capable, you won't want to put it down. And it's so thin and light, that you won't have to.'
Samsung Galaxy Tab S 8.4 (Rs 37,800)
A feature rich offering from Samsung, Galaxy Tab S 8.4 is the thinnest and lightest tablet offered by the company till date. The tablet comes with a WQXGA Super AMOLED display that provides deeper and more realistic images by making blacks darker and whites brighter. Samsung claims that the tablet's 'adaptive display' also intelligently adjusts gamma, saturation, and sharpness based on the application being viewed, the colour temperature of the viewing environment and ambient lighting.
Also, taking a cue from competitor Apple, Samsung had also provided a fingerprint scanner in the device. All in all, at Rs 37,800, the tablet is worth every penny spent on it. Note that in addition to the 8.4 inch tablet, Samsung had also launched a 10.5 inch version of the device.
Google Nexus 9 (Rs 28,900)
Built in partnership with Taiwanese manufacturer of tablets and smartphones HTC, Nexus 9 sports an 8.9 inch QXGA display and runs on the next iteration of the Android operating system called Android 5.0 or Android Lollipop. At a starting price of Rs 28,900 in India, the tablet is definitely worth a buy. And since it is a Nexus device, it will always be one of the first devices to get Android updates as and when they launch.
Also, since more and more people want to have the same simple experience they have on their tablets when they have to do real work, the company has designed a keyboard folio that magnetically attaches to the Nexus 9, folds into two different angles and rests securely on your lap like a laptop.
Honorary mentions: iPad mini 3, Microsoft Surface Pro 3, and Samsung Galaxy Note Pro 12.2.
---