Private label fashion e-tailer DoneByNone goes down; investor says relaunching with new team

Netcraft Retail Solutions Pvt. Ltd. run private label women fashion etailer DoneByNone has gone inactive with its site throwing up 'non-available' message indicating another casualty in the e-commerce space. However its investor, early-stage investor Seedfund maintains that the venture is not dead and the site would be relaunched under a new team after all the three co-founders of the firm quit in late 2014.
"The model has been changed completely. Now the company would focus on breaking even rather than the (topline) growth," Shailesh Vikram Singh, executive director of Seedfund, an investor in the firm told Techcircle.in. Singh is also a board member of DoneByNone.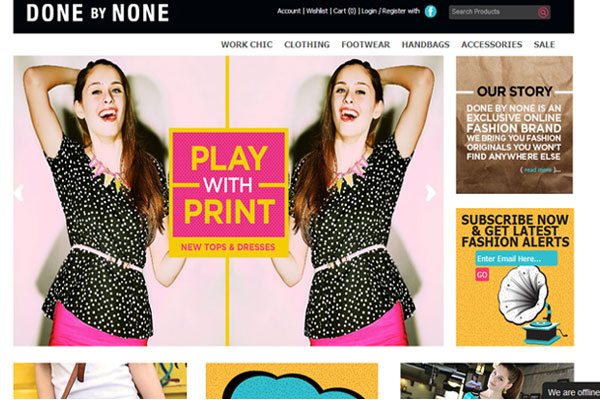 The company was founded by Amarinder Dhaliwal and Vijesh Sharma in February 2011. Vijay Misra joined hands with the duo later. While Dhaliwal and Sharma are former executives of media giant Bennett, Coleman & Co. Ltd (BCCL), Misra is former director of TCNS Clothing Company (which runs under the brand W).
It was initially running operations under the brand HandsPick.com which was changed to DoneByNone two years ago.
Dhaliwal had quit the company to join handset manufacturer Micromax as the chief operating officer of its new sub-brand 'YU'. He was the CEO of DoneByNone as of November 2014.

Sharma too left during the same time and as per his LinkedIn profile update he is starting up again.
Misra's LinkedIn page just mentions that he was associated with the company till August 2014.
On December 11, the company posted an apology on its Facebook page for letting its customers down and said it was working to sort out each and every issue its customers requesting for time and patience. "

Here is the post –
"Sorry. There's no other way of saying it - we're a brand that has grown because of your love and we're really sorry we've let you down lately.
Here's the short story: we went through a tough time, we're better now, and we'll work to fix each and every issue you folks have - just give us a little time.

Here's the long story: we're a small start-up, and as you can imagine, life has been quite tough for small e-commerce retailers - and we went to hell and hopefully are on our way back from there. While we were focusing on other things that needed solving, we took our eyes off you and your issues.
We'll now work to sort each and every issue you all have. If we've taken an order and haven't fulfilled it, or have messed up while fulfilling it, we'll work to set it right. If we can't fulfil it right, we'll give you your money back. Promise.
Do give us a little time. We'll be contacting each and every one of you, and we hope to set things right very soon.

Thank you again for your love and understanding."
According to Seedfund's Singh, the founders left the company due to challenges in raising further capital. However, even after quitting, they remain shareholders of the company.
He added that the company will continue offering private label bags, clothes, accessories and shoes.

Besides its own site, the firm also sells merchandise under its brand through third party properties including Flipkart, Amazon and Jabong.
DoneByNone competed with ventures like Freecultr, Zovi and YepMe in the private label fashion e-com space.
---