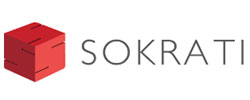 Digital marketing and analytics provider Sokrati Technologies Pvt Ltd has raised an undisclosed amount in its Series B round of funding from VC firm IvyCap Ventures with participation of existing investor Inventus Capital.
The capital will be used for growing its sales and marketing efforts in India and US.
Ashish Wadhwani, managing partner at IvyCap, will join the company's board.
Sokrati was founded in Pune in January 2009 by ex-Amazonians Ashish Mehta, Anubhav Sonthalia and Santosh Gannavarapu. While Mehta was part of the paid marketing team at Amazon.com, Sonthalia was employed in the programme and product management division. Gannavarapu on the other hand was on the technology side working on software that powered Amazon's affiliate marketing.
It last raised funding almost four years ago scooping an undisclosed amount in its Series A funding from Inventus in March 2011.
"This fresh round of funding will allow us to aggressively expand our technology and big data engineering teams while building out our marketing presence globally," said Ashish Mehta, founder and CEO of Sokrati.
The company offers an automated platform for search and social media marketing. It targets advertisers in e-commerce, travel and classifieds. Currently, it has over 3,000 marketers on its multi-channel digital marketing platform. It serves over 75 million ads on a daily basis.
Its platform is driven by self-learning algorithms around industry intelligence.
"We are clearly in the midst of a massive shift in the advertising industry, where marketing dollars are increasingly being channelled to digital media," said Vikram Gupta, founder and managing partner of IvyCap Ventures.
"There is a definite need for a one-stop platform that consolidates the major digital channels and offers a media spend optimizing solution out-of-the-box, especially for business that do not have the expertise for performance oriented digital spends, or the need or budget for in-house teams," he added.
---