Google launches 'Flight Search' feature in India, partners Goibibo among the OTAs
Search giant Google has introduced its 'Flight Search' feature in India, which enables users to search directly for flights within Google or access Google.co.in/flights to find, compare and book flights from their mobile device, tablet or desktop.
Users can also save the itinerary to track its price and compare it with other itineraries, or share the same via a link or email. The flight search tool was first launched in the US back in 2011, and then in parts of Europe.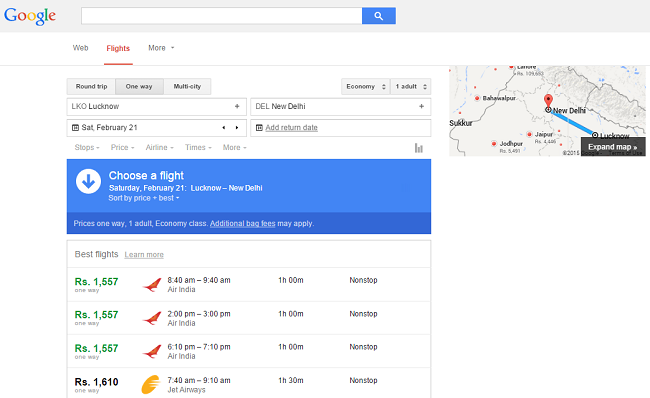 "Whether you know where you want to go or you are open to inspiration, we make it easy for you to explore travel options and figure out the best time to travel. When you are ready, quickly find, compare and book the flight that works best for you," wrote Venkat Chandramoleshwar, partnerships manager, travel at Google.
How it works?
For example, if you live in Mumbai and are planning a republic day weekend getaway, when you access Flight Search, you will immediately see the price and duration of flights to several popular destinations you might like to visit— based on your preferences and previous searches. Also, if you set your dates and tap to expand the map, you will instantly see live prices for destinations around the world.
When you click on the departure date field, you will see a calendar with the lowest fares for the route highlighted for each day. You can also use the lowest fares graph below the calendar to see how prices may fluctuate based on the season, holidays or other events. Scrolling through a couple of months quickly shows you when it's a good time to fly.
Once you select your departure and return dates, you will be presented with a list of 'best flights', which represent the best trade off between convenience and price. You can also view other flights by scrolling through the summary list or selecting the 'show longer or more expensive flights' option. In addition, you can select your outbound and return flights— and book your flights by clicking on one of the blue partner book buttons.
Here is an introductory video of the service.
Goibibo partnership
Interestingly, online travel aggregator (OTA) Goibibo.com has already partnered with Google for the 'Flight Search' feature. What this basically means is that apart from a 'Book with Air India' or a 'Book with Jet Airways' button, the search giant will also display a 'Book with Goibibo' button.
While clicking on the 'Book with Air India' button redirects the user to the airlines site, choosing the 'Book with Goibibo' option redirects them to the OTA's site in order to complete the booking.
Note that while Google does offer advertisements from OTAs within its Flight Search feature in markets like the US, it does not offer a blue partner book button from the same.
"Goibibo.com is the first OTA in India to partner with Google for Flight Search .This is in line with our philosophy of delivering the fastest booking experience to our travellers," said Ashish Kashyap, founder and CEO, ibiboGroup (owns Goibibo.com and redbus.in).
"Travellers can now find and compare the best flights on Flight Search and can book their flights on Goibibo, one of the blue partner book buttons featured on Google," added Chandramoleshwar.
However, by allowing users to book directly with the airlines, we feel the search giant will essentially eat into the customers of Indian OTAs like MakeMyTrip.com, Yatra.com, and Cleartrip.com, among others. It will be interesting to see how leading Indian OTAs respond to Google's initiative.
Comment(s)