After buying Dhingana, music streaming venture Rdio enters India; offers ad-free subscriptions
San Francisco-based digital music service Rdio, which had acquired Indian social music streaming venture Dhingana in March last year, has forayed into India.
Rdio claims that it offers over 32 million songs in 43 languages from global, regional and local labels that include T-Series, Yash Raj, Sony Music, Warner Music Group and Universal Music.
Users can choose from hundreds of curated stations or can create their own personalised stations. The startup also offers a programmed, free-internet radio experience, which can be upgraded to a full on-demand subscription with access to any song, album, playlist or station (online or offline) without ads for $1.99 (Rs 120) a month.
Rdio's services are available on the web as well as on mobile, besides on connected home audio, TV and automobiles. For the same, it has partnered with various mobile app and automotive brands like Shazm, Google Chromecast, and Volvos.
"India is the fastest-growing internet market in the world with one of the most vibrant cultures for music," said Anthony Bay, CEO of Rdio.
"We have built a strong local organisation here, which is now our largest office and team outside the US. Our objective is to raise the bar for the digital music experience in India and provide the most robust offering of music from around the world, all tuned to each individual listener," he added.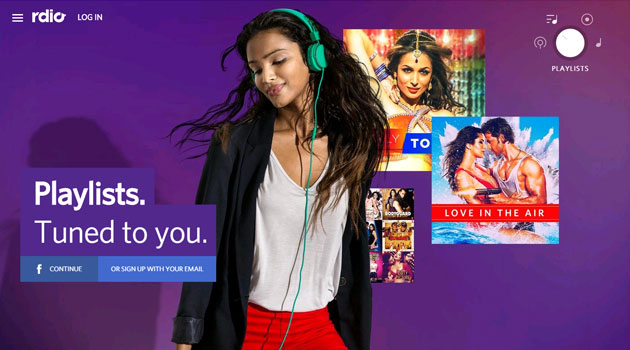 Founded in 2010 by Janus Friis, co-creator of Skype, Rdio has operations in 61 countries. It has a subscription-based revenue model, as it competes with global rivals like Spotify and Pandora.
"Over the past seven years, my brother and I have dedicated our lives to bringing millions of users the diverse and wonderful music of India," said Snehal Shinde, VP of emerging markets at Rdio, and co-founder of Dhingana.
"Last year Rdio acquired Dhingana and we set out to marry our Indian expertise and experience with the best global music platform. We are proud now to introduce Rdio to India that delivers a global music service with a localised user experience for music fans in India and abroad," Shinde added.
In the country, Rdio will compete with the likes of Saavn, Gaana and Hungama, among others.
Comment(s)