Twitter acquiring VC-backed mobile marketing & customer engagement platform ZipDial

Twitter is acquiring multiple venture capital firms-backed ZipDial Mobile Solutions Pvt Ltd, which runs a missed call-based customer engagement platform ZipDial, for an undisclosed amount.
This marks its first acquisition in India and adds up to the list of deals where international firms have snapped Indian startups and thereby providing an exit route to VC firms. In the past, Facebook (Little Eye Labs) and Naspers (ibibo, redBus) have acquired Indian new generation tech ventures.

Although deal size was not disclosed, separate media reports pegged it at $30-40 million.
"We're thrilled to announce that ZipDial has agreed to be acquired by Twitter," announced Valerie Wagoner, ZipDial co-founder and CEO. She co-founded the firm around five years ago along with Amiya Pathak (COO) and AngelPrime's Sanjay Swamy (chairman).
Wagoner said: "This is a huge achievement for the entire ZipDial team, and an opportunity to reflect on everything we've accomplished since our start in 2010. The company was founded on the insight that consumers and brands in emerging markets behave differently and have different needs. We build for them and their unique behaviours."

She added: "We also eagerly anticipate everything we can achieve with Twitter. We'll continue building upon the existing ZipDial platform, and now, by coming together with Twitter, we have the tremendous opportunity to elevate everything we've built to a global scale."
In a statement, Twitter India CEO Rishi Jaitley said: "On behalf of our India operations, I'm delighted to welcome ZipDial's leadership, employees and a new office in Bangalore to the spirited team that is @TwitterIndia."
He added: "Our primary mission, bolstered by this acquisition, is to help every Indian with a mobile device get a great, relevant Twitter experience. We believe Twitter – a platform invented for SMS and rich in media – is a perfect match for India, a mobile-first country with a celebrated media heritage."

ZipDial's user experience combines SMS, voice, mobile web and access to mobile apps to bridge users from offline to online. The company's core business model, though, was built on leveraging the ubiquitous behaviour of 'missed calls' between friends and applying them as an offline call-to-action for brand engagement.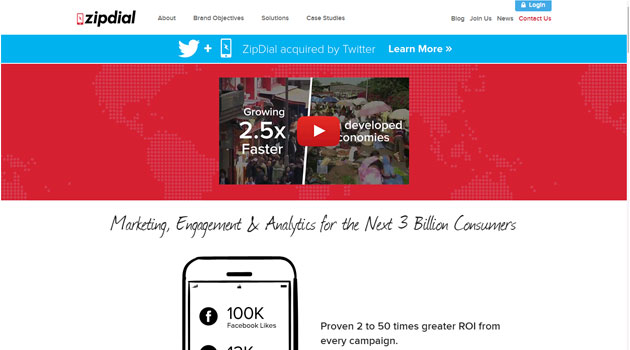 For example, through ZipDial, one can engage with a publisher or brand by making a toll-free 'missed call' to a designated phone number. The caller will then begin receiving inbound content and further engagement on his/her phone in real time through voice, SMS or an app notification. These interactions are especially appealing in areas where people aren't always connected to data or only access data through intermittent Wi-Fi networks.

Additionally, prepaid recharge or top-up (money added to a user's prepaid mobile account) is considered as valuable as currency in emerging markets. That became a foundation for the company's couponing and gratification products.
ZipDial claims it has achieved more than one billion connections with brands across 60 million users.
It had raised capital from investors like Blume Ventures, AngelPrime, Mumbai Angels, Jungle Ventures, Unilazer Ventures, DSG Consumer Partners, Times Internet and 500 Startups. Sunil Goyal, who heads early-stage investment fund YourNest, had led the angel round as part of the funding from Mumbai Angels.

Notably, it did not raise any large VC round. It raised small rounds from a string of early-stage VC firms besides roping in several angel investors.
Twitter in the statement said over the next several years, billions of people will come online for the first time in countries like Brazil, India and Indonesia and for many, their first online experience will be on a mobile device – but the cost of data may prevent them from experiencing the true power of the Internet.
"Twitter, in partnership with ZipDial, can make great content more accessible to everyone," it said.

Over the past two years Twitter had collaborated with ZipDial on a variety of campaigns, including the Indian elections, Bollywood film promotions and @MTVIndia's#RockTheVote "Dial the Hashtag" campaign.
(Edited by Joby Puthuparampil Johnson)
---