Alibaba misses revenue forecast in Q3, stock tanks; Amazon surprises with profit in Q4, India vendor base rises to 16K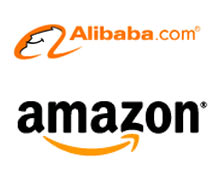 Global e-commerce giants and staunch competitors, Alibaba Group Holding Ltd and Amazon.com Inc reported 40 per cent and 15 per cent increase in revenue during the quarter ended December 31, 2014 over the year ago-period. While Alibaba's revenue fell short of the street estimate of $4.45 billion clocking $4.22 billion ($2.99 billion in Q3 FY14), Amazon's improved bottom-line after a record loss in Q3, brought relief to the investors.
Amazon reported a revenue of $29.33 billion during the quarter, led by growth in Prime membership service and a 22 per cent rise in overall sales in its home market even as international sales grew by a modest 3 per cent. The company had posted $25.59 billion net sales in fourth quarter of 2013.
"When we raised the price of Prime membership last year, we were confident that customers would continue to find it the best bargain in the history of shopping. The data is in and customers agree - on a base of tens of millions, worldwide paid membership grew 53 per cent last year, 50 per cent in the US and even a bit faster outside the US," said Jeff Bezos, founder and CEO of Amazon.com.
"Prime is a one-of-a-kind, all-you-can-eat, physical-digital hybrid — in 2014 alone we paid billions of dollars for Prime shipping and invested $1.3 billion in Prime Instant Video. We'll continue to work hard for our Prime members," he added.
Net income declined for both the e-tailers. Alibaba's net slumped 28 per cent to $964 million primarily due to an increase in share-based compensation expense, tax expenses and one-time charge for financing-related fees.
Jonathan Lu, chief executive officer of Alibaba Group, said, "We delivered a strong quarter with significant growth across our key operating metrics."
"Gross merchandise volume across our China retail marketplaces grew 49 per cent year on year, and our annual active buyers increased to 334 million in 2014, an increase of 45 per cent year on year. Our unrivalled leadership and momentum in mobile continued, we added 48 million active users sequentially and delivered over $1 billion in mobile revenue during the quarter," he added.
Amazon on the other hand posted a net income of $214 million in the fourth quarter compared with $239 million in the year ago period. But its earnings were much better than expected. The firm had posted net loss of $437 million, its biggest in 14 years.
For the full year, however, it reported a net loss of $241 million compared with net profit of $274 million in 2013.
For the year ended December 31, 2014, net sales increased 20 per cent to $88.99 billion, compared with $74.45 billion in 2013.
The operating income stood at $178 million, compared with $745 million in 2013.
It's worth noting that the wide difference in net revenues of the two companies is due to the fact that Amazon mostly sells products it sources itself though it also has third party vendors. Alibaba in contrast is a pure marketplace and even though the value of products sold through its associated properties- Taobao (C2C) and Tmall (B2C) are many times more than Alibaba, it only gets fees and other earnings from its vendors who sell all products on its sites.
Here's a look at the operating metrics of both the giants:
Alibaba
The total GMV transacted on its China retail marketplaces for the quarter was $127 billion, an increase of 49 per cent over last year. GMV transacted on Taobao marketplace increased 43 per cent to $80 billion, while GMV transacted on Tmall was $47 billion, an increase of 60 per cent compared to the same quarter of 2013. The growth was primarily driven by an increase in the number of active buyers and also partially attributable to category expansion, for example, auction transactions.
Mobile GMV was $53 billion, a 213 per cent increase against the same quarter of 2013. IT accounted for 42 per cent of retail GMV in China as against 36 per cent in the year ago quarter. The growth was primarily driven by increases in the monthly active users accessing the firm's platforms through mobile devices.
The company's China retail marketplaces had 334 million annual active buyers in the 12 months ended December 31, 2014 compared to 231 million in the 12 months ended December 31, 2013, representing an increase of 45 per cent.
Mobile MAUs grew to 265 million in the month ended December 31, 2014, compared to 217 million in the month ended September 30, 2014, representing a record high net addition of 48 million MAUs in three months, and a 95 per cent increase from 136 million in the month ended December 31, 2013.
The company said it had a total of 34,081 employees as of December 31, 2014, compared to 33,239 as of September 30, 2014 and 20,884 as of December 31, 2013.
Amazon
The company's numbers were clearly driven by its home market and the firm is still struggling with its international sales, which grew by a mere 3 per cent last quarter. This also tilted its business mix towards the US which accounted for 64 per cent of sales as against 60 per cent in Q4 2013.
Amazon does not give country specific numbers for India, which it counts among its fastest growing markets. However, the firm said in its second year of its operation, Amazon.in emerged as India's largest online store. It did not state a basis for this but it is believed to be based on the number of products on site.
It launched 24 new departments, increasing selection to over 19 million products in India marketplace, and grew its seller base to more than 16,000 vendors.
Flipkart is bigger than Amazon in terms of sales in India.
Globally, the number of Amazon sellers using Fulfilment by Amazon (FBA) grew by more than 65 per cent year-over-year in 2014. In the fourth quarter, FBA units represented more than 40 per cent of total third-party units.
In Q4 it recorded the fastest growth in sales of non-media, non-electronics products which rose 41 per cent to $1.67 billion. This comprises sales from non-retail activities, such as AWS, which are included in the North America segment, and advertising services and co-branded credit card agreements. This was followed by electronics and general merchandise growing 24 per cent.
Citing first quarter 2015 guidance, Amazon said net sales are expected to be between $20.9 billion and $22.9 billion.
(Edited by Joby Puthuparampil Johnson)
Comment(s)