Semi precious jewellery e-tailer Voylla claims 10K orders a month, adding virtual trials soon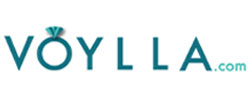 Jewellery and accessories e-tailer Voylla.com, owned and operated by Bangalore-based Voylla Retail Pvt Ltd., plans to double its headcount by the end of 2016 and introduce a feature allowing virtual trial of its products on the site by the year end, a senior executive of the company told Techcircle.in.
"Currently we have over 70 employees. We plan to expand to 150 in the next two years. The hiring will be across technology, operation and production division," said Vishwas Shringi, co-founder and CEO of the company.
Talking about new features in the works, he said, "Jewellery is a product where consumer wants to know whether the given piece would suit on her face or not. Keeping this in mind, we will be launching a concept of virtual trial room. We will be investing heavily on technology."
The startup is in talks with Indian and foreign VCs to raise $10 million in Series B round of funding. "It hasn't been finalised yet; we may (even) raise a larger round," Shringi said.
So far it has raised $2 million with bulk of the money coming in the last round where it got existing investor Pune-based Snow Leopard Technology Ventures to put in more. It had also participated in the previous round where the firm raised Rs 2.5 crore. Prior to that, the startup had received an angel funding of Rs 50 lakh from an undisclosed investor in October 2012.
The startup was launched by two former Amazonians, Shringi and Raj Uparkar, as a designer apparel e-tailer in 2012, but it soon pivoted into a jewellery and accessories marketplace. Later Uparkar left the company to join back the corporate word in June 2013.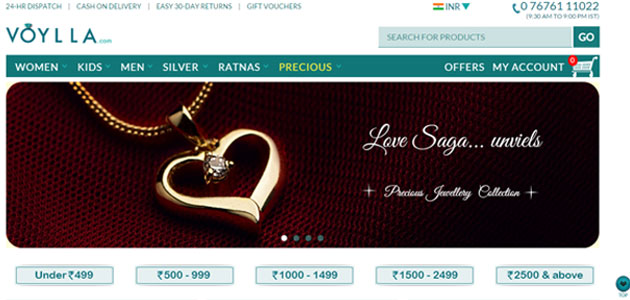 Voylla currently sells semi-precious, precious metal & gem stone jewellery and accessories for women within the range of Rs 500-Rs 5,000. "We want to make jewellery the most affordable luxury," said Shringi.
The site offers products from a number of designers including Varsha M, Devika Arora, Manisha Singh, Anju Bansal, Anil Kabra and Abhishikta Pandit. It also has in-house designers who create designs for the site. These are then manufactured on a contract basis from independent vendors.
The company claims to have 10,000 unique designs on the site and says it is now adding 500 new designs every week.
It is also planning to launch 25 shop-in-shops across the country in partnership with Future Group's Central Mall in the next one year. It currently has three such offline format stores.
These stores will be launched in cities such as Hyderabad and Chennai. "The idea is to launch stores in most of the cities where Central Mall is present."
Traction, sales & more
The site claims to be getting 0.5 million views a month including those from its products listed on other e-com marketplaces such as Flipkart and Snapdeal. The conversion rate of the company is 2 per cent, which translates into around 10,000 orders a month. It says that 25 per cent of its customers are repeat customers. Most of its current orders come from Mumbai, Delhi and Bangalore. "Our aim is to capture the tier 2 and 3 markets now as the growth will come from these places. We are looking for the mass market," Shringi said.
Voylla reported Rs 6 crore in gross sales for the calendar year ended December 2014. With its planned expansion, it now aims to grow this five-fold to Rs 30 crore in 2016. The company also plans to break even this year.
"We also plan to set up a technology platform which would tell us which jewellery or material should be sourced and in what quantity. This will come based on the customer interest that is generated on the website. Too much stocking is waste of money. We want to have the right products at the right time," Shringi said.
Other players in the imitation and semi-precious jewellery space include names like Juvalia & You and Youshine. Youshine had raised angel funding in 2012. To that extent, Voylla is the most funded among its peer group.
Two larger peers in the precious jewellery and accessories space are Caratlane, which recently raised Rs 192 crore ($31 million) in Series D round of funding from existing investor Tiger Global; and Bluestone, which also counts prominent backers including former chief of Tata Group Ratan Tata, Accel Partners, Kalaari Capital and Saama Capital.
(Edited by Joby Puthuparampil Johnson)
Comment(s)