Job & career counselling startup CareerCo claims 25K registered members, a third of which are paid-users
CareerCo, a Delhi-based hybrid (online+offline) student career counselling startup, run by IPM Learning India Pvt Ltd, is all set to expand its offerings to assist graduates in job placements as well, a senior executive of the company told Techcircle.in.
"So far, we were counselling school students for higher studies. Now we will also be catering to graduates. We want to tap the user base between 15-30 years of age," said Ramit Sethi, co-founder and chief mentor of CareerCo.
Founded in 2012 by Sethi and Alok Jain (COO), the startup conducts psychometric tests on students to gauge their area of interests. While Sethi has a B.Com degree from SRCC, Delhi, Jain did his higher studies from National Institute of Information and Technology.
How CareerCo works?
The site offers career guidance and job placements to young students and graduates across all streams. It uses psychometric assessment tools to gauge the personality and behavioural traits of the candidate, post which it matches them with specific careers or jobs. Its solutions include a recruitment adviser and an engagement adviser.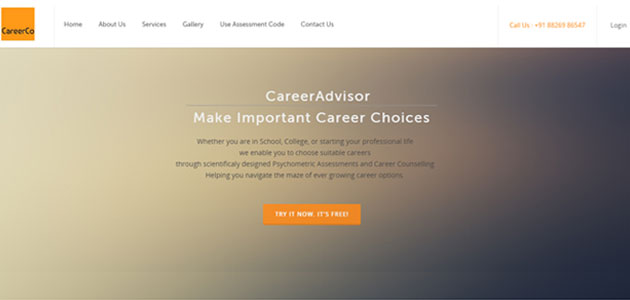 For class 10th and 12th students, it offers online as well as offline career counselling advice. The CareerCo team partners with schools and colleges for campus counselling, and also enables individual students to log on to their website (through Facebook) for a free initial service.
While the basic service is free, students are charged Rs 5,000 for further activities like career assessment, psychometric test etc. This involves an hour long session with the counsellor. Currently, the company claims to have 25,000 registered users, out of which 8,000 are paid users.
For graduates, the startup will offer a platform to assist them with internships and entry level jobs- on the lines of job portals such as Naukri.com and Monster.com. However, it will also allow candidates to post a video resume to ensure more appropriate feedback from companies. This service is scheduled to be launched in March 2015. The company claims to have already roped in over 150 companies so far.
"Our solutions are already piloted and deployed in established companies like Wipro BPO in India. We are now poised to launch the placement adviser, which will link campuses to corporate for scalable entry level requirements," Jain said.
CareerCo also has a set of customised enterprise solutions directed at organisations. It helps them increase engagement with employees within the company, or assess training needs for employees. With this solution, the company aims at addressing issues such as employee stability, attrition promotion planning etc.
While there are many startups gaining traction in educational counselling and career guidance space, Sethi maintains that the startup is different as it is catering to three categories- students, job seekers and companies- under one umbrella. It is also looking to raise $2 million in funding and is in initial talks with a few investors for the same.
In terms of competition, CareerCo is likely to lock horns with online skill assessment platform Mettl, which offers a plug-and-play-based automatic invigilation mechanism as well as an English language simulator. Its products also include an assessment platform focused on the education industry called Math. The company had earlier raised $4 million in Series A, led by IndoUS Venture Partners (now Kalaari Capital). Prior to that, it had raised angel rounds from Blume Ventures and other investors like Sasha Mirchandani, Puranjaya Singh, Sunil Sharma and Naveen Tewari.
YourNextLeap.com in another player operating in this space.
Comment(s)