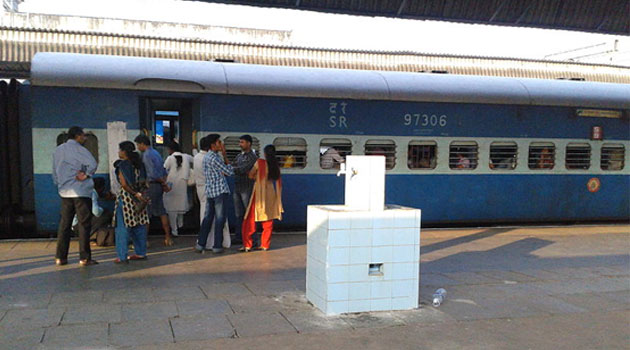 The government has proposed a number of tech-based solutions like development of a multi-lingual e-ticketing portal, providing hand-held terminals to ticket examiners, express five-minutes ticketing option, SMS alerts, and free Wi-Fi services in second rung stations, in the Railway Budget 2015-16.
Presenting his maiden Rail Budget on Thursday, Railway Minister Suresh Prabhu said that a pan-India 24X7 helpline number, 138, will become functional to attend to the problems of passengers on a real-time basis. Passengers will be able to call up for complaints while on trains.
The facility will be started on a pilot project basis on Northern Railway from March 1, 2015, and will be extended to all Railways soon thereafter.
Wi-Fi services at all A1 and A category stations are already being provided and as part of 'Digital India' initiative, Wi-Fi will be provided at B category stations as well.
Work towards developing a multi-lingual e-ticketing portal has also been proposed. Currently the government runs an English language based portal under IRCTC.
"In Central Railway, Western Railway and Southern Railway suburban sections, a pilot project of issuing unreserved tickets on smartphones has already been started. This facility will be progressively extended to all stations. A mobile application to redress Railway-related complaints is also being developed," Prabhu said while presenting the Rail Budget.
Automatic ticket vending machines with smart cards and currency options have also been installed at many stations. Prabhu has proposed to add to this and also to introduce debit card operated machines.
E-catering had been introduced in 108 trains on an experimental basis from January this year, wherein food can be ordered through the IRCTC website at the time of booking of train tickets. Depending on the response from travellers, the facility will be extended to cover more trains, the minister said.
Hand-held terminals will now be provided to travelling ticket examiners that can be used for verification of passengers and downloading charts, in order to move towards paperless ticketing and charting, as well as expedite finalisation of refund claims.
The minister has also proposed the idea of extending the facility of SMS on mobiles as a valid proof of travel for Passenger Reservation System (PRS) tickets as well. An 'SMS alert' service will also be introduced to inform passengers in advance the updated arrival/departure time of trains at starting or destination stations. Similarly, SMS alerts would be sent 15-30 minutes in advance of arrival of the train at the destination.
The Railways is also putting in place an integrated customer portal, which will be a single interface for the customers to access different services.
The minister also said that a centrally managed 'Railway Display Network' is expected to be introduced in over 2,000 stations over the next two years, which will aid in providing information on train arrival/departure, reservations, general and emergency messages and also any other information of interest to citizens. Aimed at promoting 'Digital India Campaign', the facility will also unlock advertising revenue potential.
To ensure safety of women passengers, surveillance cameras will be provided on a pilot basis in selected mainline coaches and ladies' compartments of suburban coaches- without compromising on privacy. In addition, a dedicated toll-free number, 182, will be functional for receiving security related complaints. Railways would utilise resources from the 'Nirbhaya Fund' for augmenting security of women passengers.
In other initiatives, the minister has proposed a facility of self-operated lockers to gradually be made available at stations. Concierge services through IRCTC at major stations for the assistance of passengers for their pick up and drop has also been proposed.
In addition, a facility for online booking of wheel chair on payment basis for senior citizens, patients and the differently abled passengers through IRCTC on select stations will be provided. Differently abled travellers will be provided an option of purchasing concessional e-tickets after one-time registration.
---