Cab booking service Ola diversifies to add a mobile-only food ordering option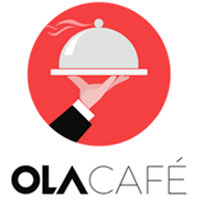 Online cab booking service Ola (formerly Olacabs), run by Mumbai-based ANI Technologies Pvt Ltd, has expanded its business area by adding a location-based online food delivery option under Ola Cafe. Unlike its core business, where one can book a cab ride through the web or through the mobile app, the food ordering option is restricted to its app, making it a mobile-only feature.
The new feature is available on the latest update of the Ola app. The firm said this is currently in beta stage.
The company plans to go pan-India but, to begin with, it has started the service in four cities -- Mumbai, Delhi, Hyderabad and Bangalore. Moreover this is not for ordering from restaurants across the city but only from those located near to the user and in some identified areas.

The service can be availed from 12 pm to 11 pm. The company did not disclose the number of restaurants it has tied up so far.
It did not say if it proposes to use cabs in the vicinity, which do no have a passenger on board yet, to make the deliveries.
Users can pay by either Ola money (it's closed online wallet) or cash on delivery. The delivery person will call customers to confirm the address, just the way a driver of cab or auto currently calls to confirm addresses for pick-ups. Users can also track the person handling the food delivery via the app, like one can do a cab approaching the user.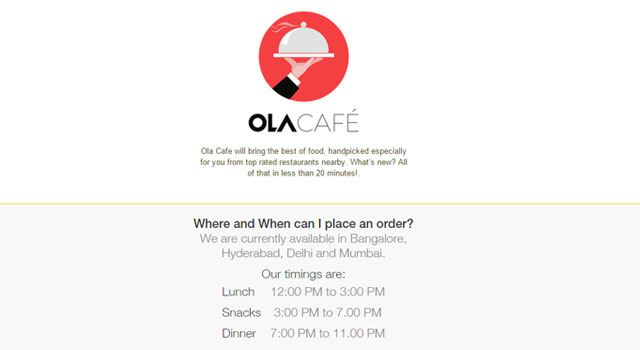 A detailed mail sent to company for more clarity on the intention and strategy behind this did not elicit a response.
Ola claims to be the largest cab booking services provider in the country by the number cars in its network.

Earlier this month, the company acquired Bangalore-based Serendipity Infolabs Pvt Ltd, which runs rival service TaxiForSure for $200 million (Rs 1,240 crore) in a cash and stock deal.
This brought an additional 15,000 cabs to its fold. Ola says it already had 70,000 cabs and 30,000 autos in its network.
The company is flushed with cash, having raised $210 million in Series D round of funding led by Japan's SoftBank. It is also in talks to raise $400 million (around Rs 2,500 crore) from Russian investment firm DST Global with participation from its existing investors.

With the latest move, Ola has entered into a domain dominated by online food ordering service providers such as Rocket Internet-backed FoodPanda and Tiny Owl.
It is not the only new player in the food ordering space. Restaurant review and listings site Zomato is adding an option to order food from its site.
---