Web-hosting giant GoDaddy files for $481M IPO, seeking $2.87B valuation
US-based GoDaddy.Inc, an internet domain registrar and web hosting solutions provider, has fixed the price band for its initial public offer (IPO) which may raise $480.7 million, including the portion allocated to the underwriters. It proposes to list on the New York Stock Exchange (NYSE), as per a disclosure this week.
The firm is offering shares at $17-19 a unit which would value the company as much as $2.87 billion.
GoDaddy first attempted to go public in 2006 but ultimately withdrew. It had refiled for an IPO in June 2014.
The IPO proceeds will primarily be used for repaying some of the debt the company took on as part of a 2011 buyout by private-equity firms Silver Lake, KKR & Co. and TCV Investments.
GoDaddy currently manages 57 million domains which accounts for around 21 per cent of the world's registered domains.
Since its buyout, it has acquired other services, including Mad Mimi, which helps small businesses promote themselves by email, and Locu, which makes software that manages business-contact information across sites like Yelp and OpenTable. Services made up 8 per cent of its revenue in 2014.
The company's revenue last year was $1.4 billion, up from $1.1 billion in 2013. Its 2014 net loss, which included $85 million in interest costs to service debt, narrowed to $143 million from $200 million a year earlier.
As of December 31, 2014, it had approximately 12.7 million customers, and in 2014, it added more than 1.1 million customers.
In 2014, the firm generated $1.7 billion in total bookings up from $939 million in 2010, representing a compound annual growth rate, or CAGR, of 16 per cent.

GoDaddy has also been increasing its average revenue per user. It was $114 in 2014, up from $104 the year before.
Though the private-equity firms will retain their stakes in GoDaddy after the IPO, they will still receive some cash from the offering. They will get a $26 million fee to terminate their management agreement with the company. The pre-IPO owners will have 60 per cent of the voting power in the company after the IPO, according to the prospectus.
GoDaddy will also pay Bob Parsons, its founder and former CEO, a $3 million services-agreement termination fee.
As on December 31, 2014, it had about 28 per cent of its customers located in international markets, notably Canada, India and the UK.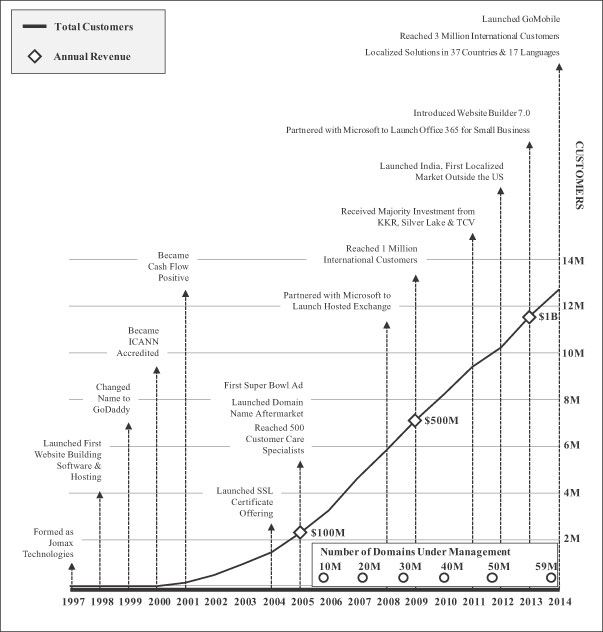 GoDaddy had launched its Indian operations in June 2012, by setting up an office in New Delhi and appointing former Microsoft executive Rajiv Sodhi as the managing director of GoDaddy India.
It has 418 customer care specialists in India and has additional call centres and offices located throughout the United States as well as Canada, India and the United Kingdom.
One of its Indian competitors, Directi was acquired by Endurance International a couple of years ago.
Comment(s)