mPOS startup Mosambee raises Series B round from Rajasthan Venture Capital & SIDBI VC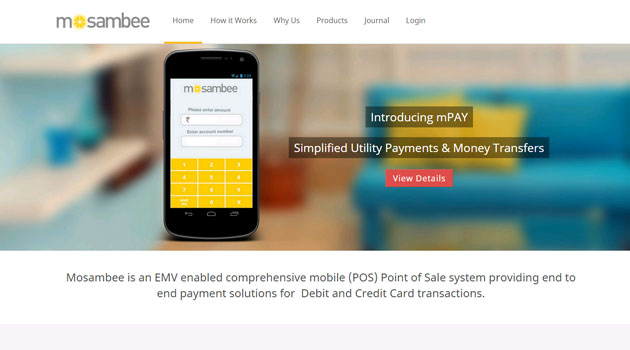 Mumbai-based Synergistic Financial Networks Pvt Ltd, which runs Mosambee, an mPOS solution provider, has raised an undisclosed amount in its Series B round of funding from existing investors Rajasthan Venture Capital Fund (RVCF) and SIDBI Venture Capital Ltd.
"RVCF and SIDBI will invest in two tranches and the deal is expected to close in six months," Girish Gupta, CEO, RVCF, told VCCircle.com.

"The investment also aligns with RVCF's philosophy to invest in companies creating technologies to address domestic and global market opportunities," he added.
While the financials of the deal are not disclosed, Gupta mentioned that RVCF is investing a little more than SIDBI through its RVCF II SME Tech Fund. As part of the deal, both RVCF and SIDBI will get a significant minority stake in Mosambee. The first tranche (half of the total investment) has already been infused in to the company.
The company will use the funds to complete its products and enhance their capabilities.

In 2013, Mosambee had raised $1 million in funding from SIDBI. RVCF had also participated in the round.
Founded in 2008 by Alok Arora (CEO), Bhushan Thaker and Sameer Chugh, Mosambee offers multi-mode payment solutions for merchants. It enables mobile phones to function as card reading machines for real-time bill payments.
"Our services support all major global card schemes including Mastercard, VISA, American Express, Diners and JCB. The company also leverages the products created by NPCI to provide its users a complete payments experience," said Arora.

Mosambee, which is active in Western and Northern parts of India, is looking to expand nationally as well as globally. It works with travel services providers as well as FMCG, and utility companies to offer solutions that mostly focus on operational aspects of data and inventory collections. According to the company, it has over 10,000 users in India and aims to increase this number to over 250,000 in two to three years.
RVCF invests in startup and mid-stage companies. It manages two SEBI registered domestic venture capital funds—RVCF Fund I and SME Tech Fund–RVCF Trust II.
SIDBI, which invested in Mosambee through its India Opportunity Fund, was floated to provide growth capital to MSMEs operating in emerging sectors such as light engineering, clean-tech, agro-based industries, logistics, infrastructure, educational services, and IT/ITES, etc.

In this space, Mumbai-based mobile POS services provider Mswipe Technologies Pvt Ltd had raised an undisclosed amount in its Series B round of funding, led by existing investor Matrix Partners, with participation from Axis Bank and DSG Consumer Partners, in February this year.
(Edited by Joby Puthuparampil Johnson)
---