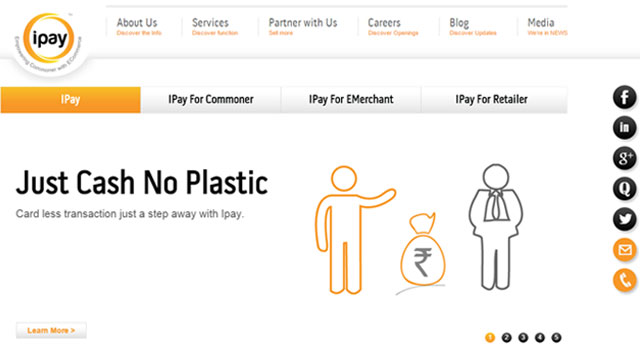 Hyderabad-based IPay Tech India Pvt Ltd, which allows non-internet users shop online through an assisted purchase model largely targeting the hinterland, claims to be doing 15,000 transactions a day across its two verticals, digital and physical commerce, founder of the company told Techcircle.in.
While digital commerce consists of mobile recharges besides bus and air ticket booking, physical category includes products such as home appliances, electronics and apparels. Bulk of the business (80 per cent of the transaction value and much more in terms of volume) revolves around the former and mobile recharges in particular with the rest coming from product sales through an assisted model.
The firm essentially offers a tablet to offline grocery and pharmacy partners with an in-built platform branded as Dukanonline to allow customers of the respective shops to buy products online by browsing through the offerings. The target is to tap consumers who are unaware of e-retail and its usage or do not have a device to make such a purchase.
The customers can place the order and then make the payment in cash to the shopkeeper of the offline partner. Once the order is placed, IPay alerts the respective offline merchant (retailer, distributor or manufacturer) who ships it directly through the company's logistics partners to the consumer. The product can also be delivered to the store from where the order is being placed and customers can pick it up from there.
It earns money by charging listing fee from the sellers like any other online marketplace as also from selling its tablet—which costs around Rs 8,000—to shopkeepers.
Although it is present in both urban and rural areas in Andhra Pradesh and the newly carved state of Telangana, the main target market is hinterlands. The firm says it has a 120-member team and has served 20.41 lakh customers through its 2,500 offline retail partners who assist in the transaction on the ground.
The startup was founded in 2013 by serial entrepreneur Krishna Lakamsani, whose first business Hello Communications Inc sold virtual calling cards under the DesiPhone brand besides terminating VoIP calls for BPOs. This firm was acquired by US-based telecom company Champion Reef Infotech in 2007. He also set up an IT infrastructure management firm which was acquired by GSS Infotech in 2012.
According to Lakamsani, products such as rechargeable lights, pressure cookers, iron boxes and mobile phones sell like hot cakes in the physical category. Other items which also have good market include low cost washing machines and personal grooming products such as trimmers and perfumes. Currently it claims to be offering over 6,000 SKUs across 14 categories.
He says the average ticket size of transaction in the digital side of the business is Rs 80 due to the high proportion of mobile recharges and for product e-com it is Rs 535.
"Last year our assumption was that the average ticket size (for product e-com) would not go beyond Rs 300 but surprisingly small town people are willing to buy higher value products. These are people who own land, agricultural properties and good disposable income, but less avenue to spend money. They either have to travel to a near-by city or wait for somebody who is travelling to get a product they have desired for long," Lakamsani said.
"The most expensive product we have sold so far has been a Samsung mobile handset which cost over Rs 50,000," he said.
The company says it is shipping over 15,000 products a month with gross merchandise value of Rs 85 lakh, in addition to the transactions from its digital segment which bring in Rs 3.4 crore, translating into an annual gross transaction value (GTV) run rate of $8.4 million. It is targeting to hit annual GTV run rate of $10 million by May 2015.
Meanwhile, the firm is in talks with both Indian and foreign venture capital funds to raise as much as $15 million in Series A round of funding. Series A round of funding in Indian tech ventures typically stay in the under $10 million range though some firms have managed to secure larger amounts.
The company also has a pan-India expansion plan but would expand to six states—Tamil Nadu, Odisha, Karnataka, Maharashtra, Gujarat and Kerala—immediately after it gets external investors on board. So far the company has been boot-strapped with Lakamsani's own money.
The company's offering is similar Paytm which offers recharges as also a marketplace for goods (besides its wallet). However, IPay's business model is more like that of LocalCube Commerce Pvt Ltd, which also offers assisted e-com for offline stores in small towns under the banner of Storeking. Storeking recently raised an undisclosed amount from Mangrove Capital Partners, a Luxembourg-based venture capital firm which has backed Skype and Nimbuzz.
(Edited by Joby Puthuparampil Johnson)
Note: This article has been modified from its original version to correct some data.
---