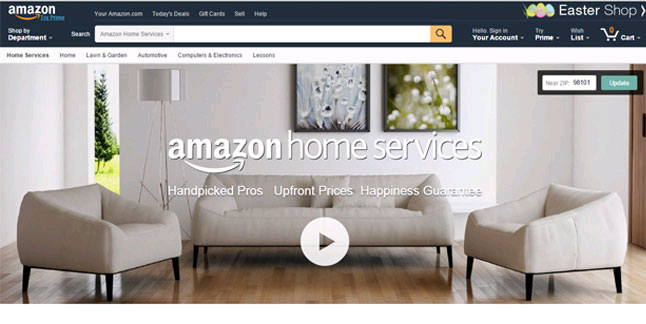 Global e-com giant Amazon.com Inc has moved beyond product and digital goods sales adding on-demand professional services marketplace to its existing site in the US offering anything a TV repair to even an option to hire a 'goat grazer'!
Unlike product sales where again Amazon operates a marketplace but it itself is the main vendor, for the services segment it would be a pure platform linking third party service providers to its users.
Customers can now browse, purchase and schedule hundreds of professional services. Amazon Home Services features hand-picked pros offering upfront pricing on pre-packaged services with reviews from customers that have made verified purchases. Amazon Home Services is now available across the country in major U.S. metropolitan areas including New York, San Francisco, Seattle and Los Angeles.
Amazon did not say by when it plans to launch the service in other markets including India. In the country it operates a products marketplace where its own JV with Catamaran is one of the several vendors.
There are a bunch of firms who are offering home services marketplace in India. Some of them like Gurgaon-based Near.in and Timesaverz.com recently raised seed or angel funding. Besides others in the same space, local classifieds ventures like Just Dial also link consumers to such service providers along with user ratings. Even though Just Dial has been adding transaction-based services for some offerings listed on its site, including booking doctor's appointment, it is yet to go big in becoming a marketplace for services.
In India, Amazon has just launched an express delivery platform in partnership with mom-and-pop stores called 'KiranaNow'. It launched the service in Bangalore on a pilot run before taking it to other cities in the country. It is in effect going hyper local in connecting vendors to consumers in India.
Amazon Dash
In another development, Amazon has added a new service, at least to begin with for its subscription based membership programme Amazon Prime. Under this it has launched a small connected device the size of a small finger that allows consumers to reorder essential replenishable products they usually run out of at the click of a button, without even logging into the mobile app or the web interface.
This can be done by pasting or hanging the 'Dash' button to appliances like a coffee maker (to order coffee) or a washing machine (to order washing powder on the go).
Dash button comes with a reusable adhesive and a hook to hang, stick, or place it as per convenience. These buttons come free (one for each such product or replenishable product) and are said to be powered with a battery life lasting years.
For instance, the Dash button can be used for instantly ordering products like pet supplies, grocery and gourmet food.
Here's how it works
The home Wi-Fi network is connected to the Amazon app and the device, which can be used as a post-it-note. Once connected, a single press on the button automatically places the order.
Amazon sends an order alert to the phone, so that, if it's been pressed by mistake, it can be cancelled or modified. Dash button responds only to the first press until the order is delivered.
It comes as an expansion of Dash 'remote' launched last year in a limited beta that lets consumers scan the bar-code of an item and place orders through voice commands.
Amazon has also said it is open to partnering more brands to offer such branded buttons (like Tide detergent button) to consumers which also allows makers of such products to push sales of its products.
---