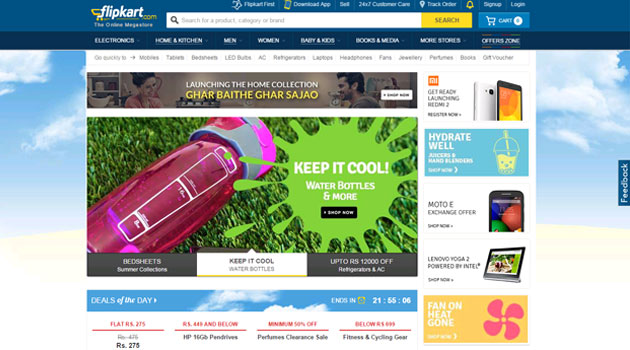 India's largest e-commerce venture Flipkart has roped in Hari Vasudev, Anand KV and Manish Maheshwari, to spearhead supply chain, customer experience and seller ecosystem verticals, the company said in a statement.
This comes amidst a string of senior hires by the firm over the last five-six months as part of the formation of a new leadership team.
Vasudev has been hired as senior vice president of engineering, IT and analytics for supply chain verticals. He will lead the unit to build supply chain products and services enabled by technology, focusing on key areas such as robotics, mobile, IoT and data sciences. He would report to Binny Bansal (COO).
Prior to Flipkart, he was working with Yahoo! Inc as a vice president and centre head. He spent over eight years at Yahoo and held various leadership positions within the search and platforms teams.
He has a master's in computer science from Iowa State University and an MBA from the University of California, Berkeley.
Anand joins the company as senior vice president for customer experience, commerce platform and will be responsible for driving the customer experience unit for Flipkart's marketplace. He would report to Mukesh Bansal (former CEO of Myntra and now head, commerce platform, at Flipkart).
Prior to joining Flipkart, he spent over 18 years in the satellite broadcasting and Direct To Home (DTH) satellite television industry across Middle East, Hong Kong and India. In his last stint, Anand worked with Hathway Cable & Datacom Ltd, as president, digital platforms. In the past he has also worked at Tata Sky. He is an alumnus of Institute of Cost and Works Accountants of India.
Maheshwari, on the other hand, comes with an entrepreneurial background. He is co-founder of txtWeb, a marketplace for text-based apps. He is joining the company as vice president and head of seller ecosystem. He will be responsible for driving key initiatives such as seller acquisition and growth of the seller ecosystem team.
His startup, txtWeb currently claims to have 16 million mobile users in India alone. Prior to founding txtWeb, he was head of new markets, global business division at Intuit, one of the world's leading providers of software products for SMEs and retailers. He holds an MBA from Wharton Business School.
Maheshwari would report to Ankit Nagori, senior vice president, marketplace.
Flipkart, which is flushed with cash having raised over $1.9 billion, last year alone, offers over 20 million products cross over 70 categories including books, media, consumer electronics and lifestyle. It has hired a bunch of senior executives in the past few months. Last month it named Punit Soni, a Google product management executive and former vice president of product management at Motorola, as its new chief product officer. It also appointed Saikiran Krishnamurthy as chief operating officer (COO) of its commerce division.
Earlier it had hired former CEO of Calvin Klein India Rishi Vasudev as a vice president for fashion retail. Last year it also named Sanjay Baweja as CFO.
(Edited by Joby Puthuparampil Johnson)
---