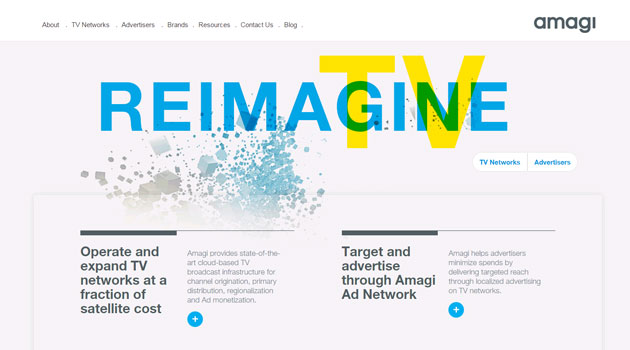 Bangalore-based Amagi Media Labs Pvt Ltd, which facilitates geographic targeting of television ads, added large broadcasters and advertisers to its network last year and is looking at an overseas expansion to scale up its revenues.
The firm is expanding internationally by opening an office in the US this month, Amagi Media co-founder Baskar Subramanian told Techcircle.in. "We are going organic right now in the US, but are actively looking at acquisition opportunities as well," he said.
This would add to its existing overseas network where it already has offices in London and Tokyo.
Internationally, it has grown its business as an infrastructure-as-a-service business, where it provides Amagi technology as managed service for TV networks.
Amagi raised $15 million in Series C round of funding led by PremjiInvest last May (it was disclosed recently) and is using the money to buy more media inventory besides investing in R&D and overseas expansion. The company's latest funding came a year after it raised Rs 31.25 crore ($5.7 million) from Mayfield Fund, with participation from existing investor Nadathur Group, an investment firm founded by Infosys' co-founder NS Raghavan, as per VCCEdge, the data research platform of VCCircle.
"Our business model is dependent on the media inventory we buy. The bigger and more the TV channel inventory we buy, more the revenues," Subramanian said.
The firm had seen its topline growth rate decelerate in the year ended March 31, 2014 with revenues growing around 40 per cent after tripling the previous year. But the company says it has not peaked out in terms of growth.
"Over the last financial year, we added general entertainment channel (ZEE TV), whose revenue and ad price are 10 times more than the previous years. Largely retail and small advertisers made up our revenue in FY2014. FY2015 we moved to large FMCG brands as our key advertisers," said Subramanian.
"Revenue of FY2014 has no reflection on the revenues of FY2015 and beyond," he added.
Amagi claims it has HUL, Wipro, GSK, Pepsi, Coke, P&G among others as advertisers in the country.
Amagi was founded in 2008 by KA Srinivasan, along with Subramanian and Srividhya Srinivasan. Prior to Amagi, they had also co-founded another technology company, Impulsesoft Pvt Ltd, a Bluetooth audio solutions provider. Impulsesoft was later acquired by SiRF, a NASDAQ-listed semiconductor firm based in the US. After the acquisition, the trio held key positions at SiRF, before launching Amagi.
With a team of 130 people currently, Amagi facilitates geographic targeting of television advertisements. Simply put, if viewers in Mumbai and Delhi are watching the same TV channel, Amagi's solutions are used to beam different ads, depending on their geographical location.
The company also offers a 'Cloudport platform' as a new product for technology licensing to broadcasters, which enables international TV networks to deliver localised feeds across geographies and reach out to new geographies by replacing their existing expensive satellite feeds. The platform is designed as a full-featured alternative to traditional channel play-out options (like satellite or fiber) and TV networks can deliver feeds with rich channel branding, diverse language versions and subtitles using Cloudport.
"We have more than 0.5 million ad seconds a month across entertainment and news channels across 15 markets. We have a mature and scaled technology platform in more than 4,000 locations across the country and are aggregating more ad inventory from multiple TV channels," said Subramanian.
He said TV ad market growth rate remains robust with an estimated14.5 per cent growth in 2015 with projected size of Rs 17,460 crore and Amagi expects geo-targeted advertising to be 15 per cent of the total market size.
"The market is projected to grow with CAGR of 19 per cent till 2019, to reach Rs 29,900 crore," Subramanian said.
As TV moves to the internet platform, he sees further growth for targeted advertising on the digital video platforms as well.
"We believe that regional targeting will happen on TV and personalised targeting will happen on OTT TV on IP connected devices," Subramanian said.
(Edited by Joby Puthuparampil Johnson)
---