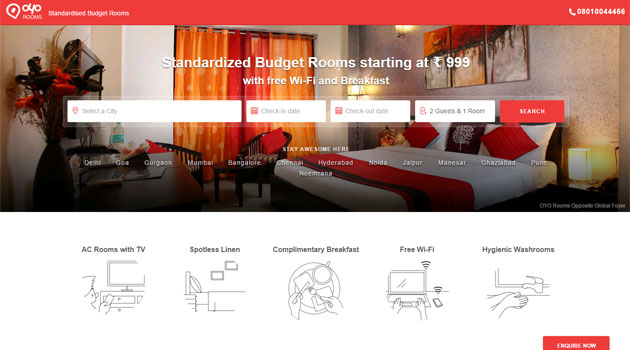 Delhi-based Oravel Stays Pvt Ltd, which runs an online branded marketplace for budget hotels OYORooms.com, claims to register more than 50,000 room nights a month and is aiming to grow it six-fold by the end of this year.
The firm just closed a large VC round raising Rs 150 crore ($24 million) from Greenoaks Capital besides three existing investors Lightspeed Venture Partners, Sequoia Capital and DSG Consumer Partners. It believes with the fresh money it can continue scaling up by adding properties at a break-neck speed.
In the past six months, the startup has grown from 30 to 200 hotels and expanded its presence from a single city to 13. It now plans to have 1,000 hotels on its platform across 25 cities by 2015-end. Concurrently, it is also looking to grow its monthly bookings 6x to 300,000 room nights a month.
"The economy segment we are going after has 1.5 million unbranded rooms. We aspire to have 100,000," Ritesh Agarwal, founder and CEO of OYORooms told Techcircle.in.
It currently offers 2,500 rooms under OYO brand across 200 third party owned standalone hotel properties. This translates into a monthly inventory of around 75,000 rooms and means it is clocking around 66 per cent occupancy rates.
The firm has an unconventional revenue model where it doesn't charge a fee on each transactions like almost all online hotel booking platforms. OYO says it charges the registered hotels on its network a flat 25 per cent of the monthly revenues they generate.
With an average room tariff of around Rs 1,400 a night it should be generating monthly revenue of Rs 7 crore for its hotel partners and getting around Rs 1.75 crore as net revenue a month, back-of-the-envelope calculations show.
OYO's Agarwal says it drives 90 per cent of the business as a single booking partner for its hotels and few mature properties do over 80 per cent occupancy rates.
Currently, the service is available in 13 cities/towns- Delhi, Gurgaon, Noida, Manesar, Ghaziabad, Jaipur, Mumbai, Pune, Goa, Bangalore, Chennai, Neemrana and Hyderabad.
For now, it plans to gain a better foothold in tier I cities before venturing further in tier II and III cities.
Oravel was founded by Agarwal in 2012 when he was just 17. It earlier operated Oravel.com, which was a marketplace for boutique guest homes, inns, bed & breakfasts, serviced apartments, holiday rental and palaces. The firm aggregated bed-and-breakfast establishments, private rooms and serviced apartments for short and mid-term rentals. However, the company shut down Oravel in June last year, and the domain name Oravel.com now redirects to OYO Rooms.
The startup was incubated at VentureNursery, an angel-backed startup accelerator, in 2012. In October 2012, Oravel received an undisclosed amount in seed funding from a group of investors, including VentureNursery. Eight other angel investors, including Everest Flavours' MD Anand Ladsariya and Nirvana Venture Advisors' co-founder Amit PatniPatni, also participated in the round.
In May 2014, the company had raised $650k in funding from DSG Consumer Partners and Lightspeed Venture Partners. Last month it followed it up with a larger VC round.
The funds raised are being used to build technology (manager app, operator app and property manager app) and forming a leadership team. With a team of 250 people working for OYO, it plans to rope in more in its leadership team.
Agarwal, now 20, says the firm has an induction process spanning 15-20 days where it takes the on-boarding app to the hotel partner.
"There are eight data points on which we audit a hotel before it is registered on OYORooms. Our hotels audit every week through the operations app. As we are moving to a tablet, every customer request can be tracked centrally," he added.
It is not the only firm aggregating budget hotels. In terms of the offering, OYO is similar to Stayzilla, which offers budget accommodation through aggregation of budget hotels. The key difference at the front end is that OYO, does this by aggregating and co-branding them under OYO brand. However, another venture Zostel does the same with branded hostels for backpackers.
---