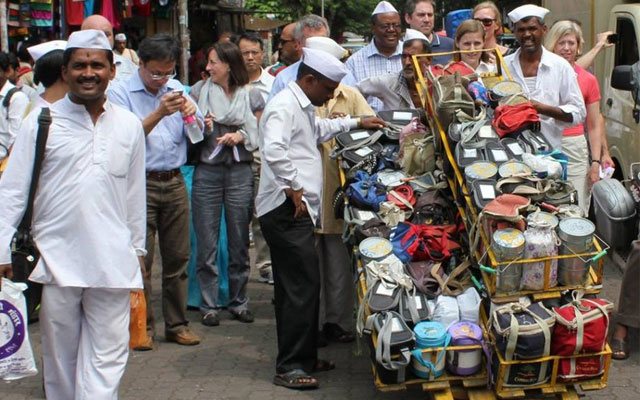 India's top e-com venture Flipkart has entered into a tie up with one of the employee unions of the dabbawalas of Mumbai, lauded as one of the most efficient supply chain networks in the world even without managerial hierarchies, Flipkart co-founder and CEO Sachin Bansal tweeted on Thursday.
Flipkart hopes to improve its last mile delivery by partnering with this local community of delivery boys. The dabbawalas have been in the profession of transporting lunch boxes for more than 120 years.
"We are partnering with them and leveraging this unique expertise to enhance our last mile delivery capabilities," said Neeraj Aggarwal, senior director- last mile delivery, Flipkart.
The first batch of dabbawalas has undergone training at Flipkart's delivery centres, the e-commerce giant said in a statement. At this stage, they will be using a paper-based tracking system with the idea being to gradually train them on the usage of apps and other wearable tech.
The dabbawalas will work as a partner to Flipkart's logistics unit eKart and will collect Flipkart marketplace shipments from the delivery hubs and deliver it the customers while picking their dabbas or tiffins.
These dabbawalas will not interact with the sellers at this stage.
The initial pilot will be for pre-paid orders and the company hopes to expand the partnerships for cash on delivery (COD) deliveries in the future, where the same delivery boys can also collect cash payments for products while delivering.
Flipkart is also experimenting with a crowd-sourced delivery option that connects local sellers and buyers with the help of voluntary delivery personnel.
The initiative enrols delivery personnel on a specialised delivery program after detailed background verifications who are free to take up Flipkart deliveries as per their convenience. The firm believes that such a model would reduce the delivery process-checks as the delivery personnel will directly collect the package from the local seller and take it to the buyer.
The pilot service is currently operational only in Bangalore and will be available for shipments of less than Rs 5,000 value.
---