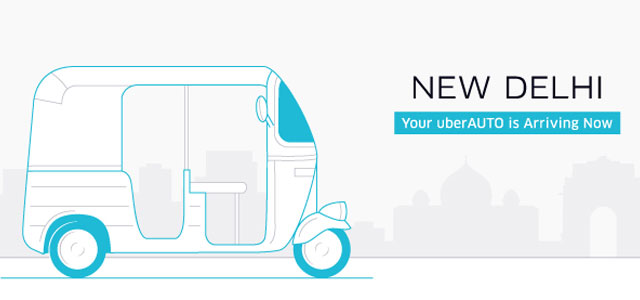 Uber Technologies Inc., which runs a global cab hailing app, has followed local competitor Ola to go beyond its core cabs business to add autorickshaw service christened uberAUTO in India and has also allowed cash payments for the first time.
Currently, uberAUTO is only available in Delhi.
Users have to select the uberAUTO option in the Uber app and wait for a confirmation from the driver.
"When it comes to getting around Delhi, autorickshaws are a staple. We recognise the history and value of autos to the transportation landscape. For us, uberAUTO is another way of using technology to offer more choice, making life simpler and keep Delhi moving," said Uber in a blog post on Thursday.
The pricing will follow the fare rules set out by Delhi state authority and there are no other charges for the consumer availing UberAUTO.
With uberAUTO, Uber will continue to operate in Delhi under a 'no profit model' that was adopted in January 2015, following the alleged sexual assault case registered by a passenger who booked a cab ride through Uber.
Uber has had a run-in with the state transport authorities after the rape case in December. While the authorities have been trying to block the use of Uber and other such ventures like Ola, on the pretext that they don't hold a valid licence to operate in the city-state, they have not been successful as yet. After a one month ban, Uber was back in action in Delhi.
One of the hottest and most valued startups globally, Uber has been trying hard to win back consumers, especially in Delhi. In February, Uber slashed the fare of its cheapest cab offering the UberGo, where it offers hatchbacks, from Rs 10/km to Rs 7/km, making it cheaper than even an autorickshaw which charges Rs 8/km after the minimum distance.
It also cut the fare on its sedan service UberX as also its premium offering UberBlack.
Meanwhile, in the latest initiative, Uber has also loosened its stance on payments, allowing direct cash payment to the drivers hailed through its app. However, this is limited to the autorickshaws.
Earlier, Uber has also locked horns with banking regulator RBI over its payments system which originally required users to give credit card details and the firm used to automatically debit the fare at the end of the ride. It later added Paytm mobile wallet as a payment option.
Uber is not the first to have an autorickshaw hailing service. Earlier another startup launched mGaadi and also got the backing of Unitus Seed Fund.
However, with the new addition it would like to take the fight to Ola, which launched a similar service in November 2014. Ola started a pilot with around 300 autorickshaws in Bangalore and currently claims to have 40,000 autorickshaws in its network.
(Edited by Joby Puthuparampil Johnson)
---