Unitus invests in mobile-based cardiac services startup iMMi Life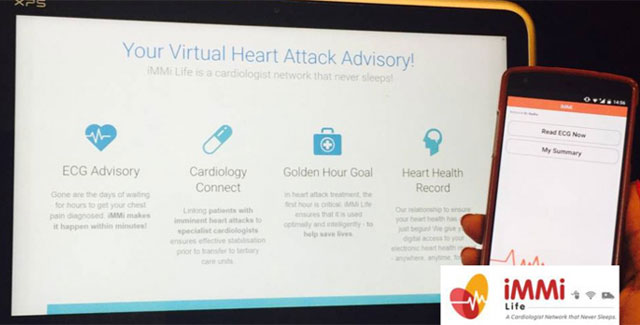 India-focused early-stage investor Unitus Seed Fund has invested in iMMi Life, a mobile-based cardiac services venture located in Chennai, under the StartHealth Investment Program, the firm said on Friday.
iMMi Life offers doctors access to on-demand opinions of multiple cardiologists for ECGs, thereby increasing the capability of the doctor to recommend next steps for patients who may have experienced a heart attack.
iMMi Life's service provides GPs with quick near real-time access to diagnosis/opinion from cardiologists. When a patient with symptoms of a likely cardiac event visits a nearby iMMi Center, the GP or a paramedic records an ECG. If the GP is unable to make a diagnosis of the condition – which can be the case up to a third of the time – (s)he uploads the ECG image on the iMMi mobile application.
Cardiologists who are 'currently live' on the iMMi network review the ECG right away and can provide an immediate advisory opinion on the patient's condition.
iMMi Life will implement an extended pilot utilising Rs 50 lakh($80,000) of non-dilutive capital and support from StartHealth partners Unitus Seed Fund, PATH, Manipal Hospitals, Narayana Health & Pfizer. Additionally, iMMi Life will receive a seed investment from Unitus Seed Fund conditioned on the success of the pilot.
StartHealth is a program to provide up to Rs 10 crore ($1.6 million) in grants and investments to very early-stage startups seeking to enhance access to affordable technology-driven healthcare products and services for the low-income masses in India.
iMMi Life was founded by IIM Bangalore graduate Manick Rajendran, a serial entrepreneur and healthcare professional. He also has experience running two large hospitals in Tamil Nadu and a genomics company.
Unitus has announced the closure of Unitus Seed Fund India, its first SEBI-registered seed fund. It has raised Rs 36 crore (just under $6 million) to close fundraising process and this adds to its parallel offshore seed fund, creating a combined corpus of Rs 140 crore ($23 million) to invest in India.
Unitus said the total corpus significantly exceeds its original target of $15 million, indicating strong demand from both global and domestic investors.
New investors in Unitus Seed Fund India, which is a rupee fund, include Anil Rai Gupta (Havells India), Harsh & Rishabh Mariwala (Marico), Krishnakumar 'KK' Natarajan (Mindtree), Alok Tandon (Shyam Telecom), Ajay Parekh (Pidilite) and Nagarajan Balasubramanian.
Early this week, the firm said Genpact founder and former CEO Pramod Bhasin and former vice chairman of Credit Suisse Vikram Gandhi, who now runs his own boutique investment banking firm, have invested in the fund through their joint social enterprise-focused fund 'Virtual Fund.'
The new investors have joined existing backers of Unitus Seed Fund India including T V Mohandas Pai (former Infosys CFO), Ranjan Pai (CEO of Manipal Education and Medical Group), Hemendra Kothari (DSP Blackrock), Pramod Saxena (CEO of Oxigen), Hema Hattangady (Conzerv/Schneider), Ananda Kallugadde (Neobytes), Rajeev Bakshi (MD of METRO Cash & Carry), Ravi Venkatesan (Infosys, Microsoft, Cummins), Srikanth Iyer (former CEO of Pearson India), Kishore Musale (Astarc Group), Aroon Raman (Raman FibreScience) and others.
Unitus' offshore fund had previously attracted capital from Bill Gates (Microsoft, Gates Foundation), Desh Deshpande (formerly Sycamore Networks), Romesh Wadhwani (Symphony TG), Vinod Khosla (Khosla Ventures), and Steve Singh (Cleartrip, Concur) among other individuals and institutions.
Founded in 2012, Unitus Seed Fund is part of the Unitus Group, a financial services group operating in India and other emerging markets since 2000. Unitus Seed Fund is based in Bangalore and Seattle. To date, Unitus has announced 16 investments in India in sectors including healthcare, education, mobile, e-commerce, retail & agriculture. It said it now expects to invest in another 12-16 companies with the additional corpus.
Comment(s)