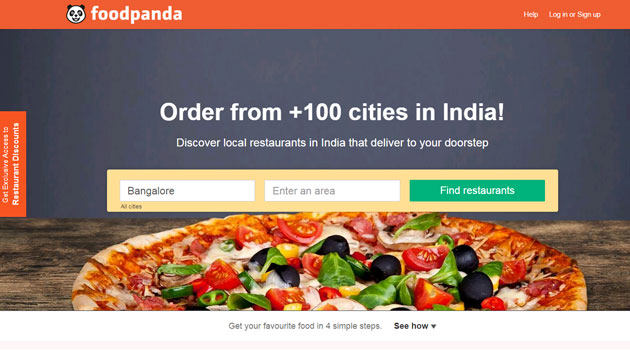 Rocket Internet-incubated global, multi-location online food ordering marketplace Foodpanda.com (which operates under Hellofood brand in some markets), has started its own meal delivery service in India.
This marks a departure from its existing business model where it acts as an ordering platform while the delivery is handled by the restaurants themselves.
The move will allow it to generate more demand even for restaurants who do not currently offer delivery option. But the firm said it would offer this service also for restaurants who have their own delivery boys.
"Our plunge into the food-delivery segment is going to benefit both the customers as well as restaurants, especially those who do not provide delivery services," said Saurabh Kochhar, CEO, Foodpanda.
He said already 20 per cent orders are being serviced by Foodpanda's own delivery service and it is now hoping to escalate this figure to 60-70 per cent by next year.
The service is already active in other countries. In India, currently it is live in five cities- Hyderabad, Delhi, Mumbai, Pune and Bangalore, and is planning to ramp up this number to 12, in the next 3-6 months.
The company has hired about 500-600 delivery personnel at the moment and will significantly ramp up this number manifold, in the next 3-6 months.
The meal delivery space in India has seen hectic activity with several startups entering the market either with a marketplace model connecting users to restaurants or to independent chefs and cooks. Some also handle their own delivery and indeed some specialise in meal delivery from restaurants on their network.
Founded in April 2012, Foodpanda features location-specific listing of restaurants on its site. Users can check out menus along with special offers and get food delivered to their homes. One can also search for restaurants according to cuisine, and/or by other parameters such as vegetarian/non-veg, healthy food, etc.
In India it claims to be having a network of over 12000+ restaurants across 200+ cities in its platform along with its partner brands Tastykhana.in and JustEat.in.
In February, Foodpanda had acquired its global rival Just Eat's Indian operations. Prior to that, it had acquired Delivery Hero-backed TastyKhana.in in India as part of a larger global deal.
The total funding raised by Foodpanda to date is over $200 million. In March 2015, it had raised $110 million from a group of investors, including existing investors like Rocket Internet AG, as well as new unnamed investors. It is also backed by Falcon Edge Capital and Phenomen Ventures among others.
---