Helion on road to raise $300M in tech-focused VC fund; to back up to 25 Indian startups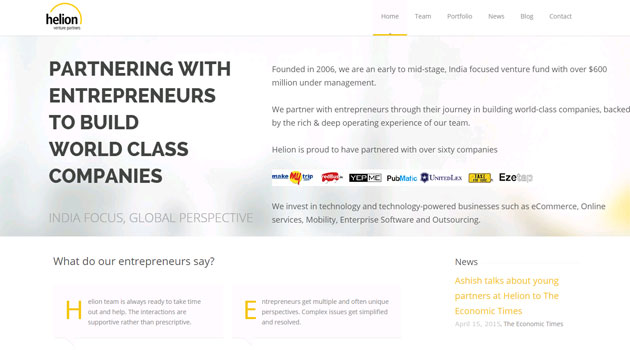 Helion Venture Partners, an early-to-mid-stage venture capital firm, is raising $300 million (Rs 1,900 crore) for its fourth fund Helion Venture Fund IV, a company spokesperson told VCCircle.
The VC firm is still on the road to raise funds and is in talks with both new and existing offshore investors. The average ticket size of the investment from the new fund will be in the $1-10 million bracket, much like its previous funds.

It expects to back 20-25 companies from the new fund and will focus on technology and tech-powered firms only. In the past, the firm has backed a few non-tech consumer services firms such as salon chain YLG and restaurant chain Mast Kalandar.
The firm is also looking to change its investment strategy. "It (new fund) will focus on technology powered (e-commerce and online services) and technology (enterprise software) companies, domestic consumer markets and global enterprise markets and provide early stage – seed, Series A and Series B – round of funding," the spokesperson said, adding that it still has enough dry powder from its third fund to invest in the companies for now.
The firm had raised $255 million in its third outing in 2012. So the new fund size is not too big. It had raised $140 million for its first fund in 2006, followed by another $210 million in March 2008.

Founded in 2006, the VC firm currently manages $605 million across three funds. It has backed names like MakeMyTrip, Pubmatic, TaxiForSure and RedBus, some of which it has exited.
The firm is currently led by two senior managing directors Ashish Gupta and Sanjeev Aggarwal. Last year another co-founder and senior managing director Kanwaljit Singh had quit the firm.
Helion joins several of its peers which are raising or have raised new pools of capital.

Last year, Sequoia Capital raised $530 million through an India-focused fund and recently topped it up with another $210 million to create the single largest pool of VC fund ever for India. Mayfield India II raised $108 million for its second fund. In the same year, Lighthouse raised $125 million for its India 2020 Fund II. Recently, SAIF Partners raised its VC fund at $350 million and Accel Partners raised $305 million for its fourth fund.
Apart from these, Kalaari Capital, Blume Ventures, Nexus Venture Partners and others are on the road to raise new funds.
Two of the three co-founders of Seedfund—Praveen Gandhi and Bharati Jacob—are splitting out to raise a $60 million consumer internet-focused fund.

Then there are others who are also getting into the early-stage investment bandwagon. Cricekter Yuvraj Singh has just floated a $10 million seed-stage fund YouWeCan to back internet startups. He is also looking to raise another $50 million from friends and others to add to the investible corpus.
IT industry veterans T V Mohandas Pai, V Balakrishnan, former Wipro joint CEO Girish Paranjpe and former iFlex Solutions CEO Deepak Ghaisas among others raised their maiden fund under Exfinity Venture Partners.
Large technology firms have made independent allocations for technology startups in India. Infosys has allocated $500 million and Wipro has set apart $100 million for startup investments. These funds are not exclusively focused on Indian ventures, though.

(Edited by Joby Puthuparampil Johnson)
---