Techcircle Startup Walkabout Mu Sigma, CommonFloor.com, InMobi, Urban Ladder and IDG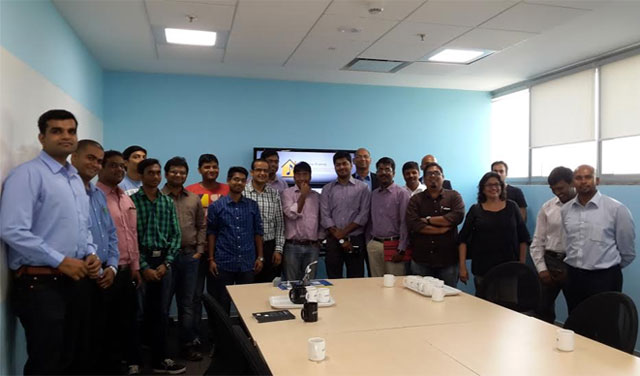 The Bangalore edition of Techcircle Startup Summit 2015, held on Wednesday, saw a house full of 300 people who were seen taking down notes of key points made during panel discussions in an almost student-like fashion. We had, however, set out on the city edition of this annual event of ours on Tuesday itself with TC Walkabout - where we arranged a visit of select participants to offices of a few startups followed by an interaction with the top management. As part of the walkabout programme, participants were taken to the offices of Mu Sigma, CommonFloor.com, InMobi IDG Ventures and Urban Ladder.
Pit Stop I - Mu Sigma

For the Techcircle Startup Walkabout participants, the first stop was at Mu Sigma - a big data analytics company.
We were greeted by Deepinder Dhingra, head of product & strategy, Mu Sigma, who led the session, explaining how the company help clients – many of them Fortune 500 firms – institutionalise decision support and analytics.
"We integrate the great mix of man and machines and products and services," Dhingra said. Mu Sigma's representatives took participants on a tour through the product and innovation lab and explained the analytical value chain and innovations Mu Sigma has undertaken in the field of internet of Things (IoT). They emphasised how analytics deployed over IoT help serve clients better.

In February 2014, MasterCard Advisors, a division of the NYSE-listed MasterCard, had entered into a strategic partnership with Mu Sigma that combined MasterCard Advisors' purchase behaviour insights with Mu Sigma's analytics. As part of the partnership, MasterCard had also acquired an equity stake in Mu Sigma.
Pit Stop II - CommonFloor.com
Our next Pit Stop was at the online real estate platform CommonFloor.com, where Sumit Jain, co-founder and CEO, took us through the entrepreneurial journey of the company till now. Jain, an IIT Roorkee graduate, quit his job with Oracle after a year in 2007 and worked with friends Lalit Mangal and Vikas Malpani to start a company.

"Between June and December 2007 when we took first steps to founding CommonFloor we worked on three ideas and failed. Failing early was the best thing," said Jain.
Recounting his experience of raising funds from VCs, Jain said their meeting with Bangalore-based Accel Partners proved to be fruitful. "It was love at first sight. They did not ask us how we make money; they asked us 'tell us how you solve the problem'".
Like most startup founders, Jain highlighted the importance of building a solid team and how that remains the key. "The most critical thing for a startup is to build a strong team".

Jain was, however, quick to point out that it makes no sense to drag on with redundancies. "On the people front, we need to ensure there are no bottlenecks. If someone becomes a bottleneck, we make it clear, 'look, we can always hire above you," he said.
CommonFloor.com has raised up to Series E funding in private capital till now.
Pit Stop III – InMobi

We then reached the office of InMobi where we were welcomed by Abhay Singhal, co-Founder of InMobi. He spoke about the company's journey, from its inception as an SMS-based search platform with initial funding from Mumbai Angels to the company that it is today being positioned as second only to Google in the global ad market, to reach over one billion unique devices. The company has offices in 17 countries and claims to grow at the rate of 40 per cent per month.
Pit Stop IV - Urban Ladder
After Mu Sigma, CommonFloor.com, and InMobi, we reached the penultimate destination of Techcircle Startup Walkabout at the office of Urban Ladder where we were greeted by CEO Ashish Goel and vice president, sales & online marketing, Nikhil Ramaprakash.

The duo explained the various levels of funding the company received over the years. The company recently secured $50 million in its Series C round of funding led by Sequoia Capital and TR Capital. Existing investors Steadview Capital, SAIF Partners and Kalaari Capital also participated.
They were vocal about their efforts to bring technological innovations in customer experience, mobility, automation and analytics. "We are trying to offer a new customer experience. We want to help customers get a sense of our products through a tech-enabled process," Goel said. The company handles delivery and installation of all the products it offers. It started a new practice in the Indian e-commerce market by initiating trials of sofas in customers' homes and introduced a concept called Trial Room where users can apparently get up to three single seaters delivered to their home for trials.
Pit Stop V - IDG Ventures India
The Techcircle Startup Walkabout participants then reached the last pit stop at IDG Ventures India where they were greeted by Sudhir Sethi, founder chairman and managing director and Sheeba D'Mello, research director. They spoke about their investment strategies in terms of what kind, size, and categories of companies that they would invest in. They also shared insights into how they would take a seed investment to series A, B or C rounds.
IDG Ventures is a technology focused venture capital firm which is part of a global network of technology venture funds with more than $4 billion under management, over 200 investee companies and 10 offices across Asia and North America.
(Edited by Joby Puthuparampil Johnson)
---