Business expense management tool startup Happay raises $500K from AngelPrime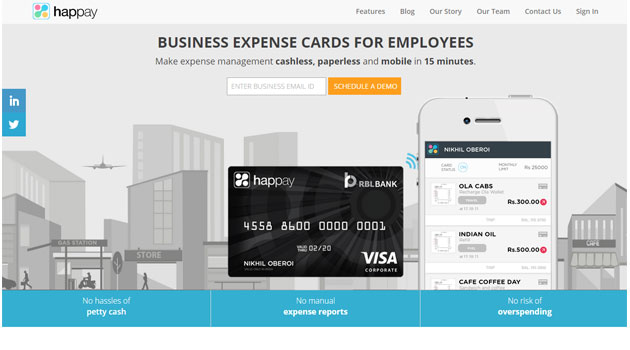 Bangalore-based VA Tech Ventures Pvt Ltd, the company behind business expense management tool venture Happay, has raised $500,000 (Rs 3.1 crore) from seed-stage VC firm AngelPrime, it said on Thursday.
The company will use the funding in product development, sales & marketing and hiring people.

"At Happay, we are committed to bringing all business spends under one integrated platform - with a singular focus on customer delight," said Anshul Rai, CEO and co-founder, Happay.
Happay was founded in 2012 by IIT Kharagpur alumnus Anshul Rai and Varun Rathi. It seeks to streamline an organisation's expense workflow from expense reporting to accounting and gives real-time visibility and control over business spending.
The company recently launched happay Business Expense VISA Card in partnership with Ratnakar Bank. The three most common use cases for Happay are travel & expenses, office administration, procurement & petty cash and employee/partner disbursements.

"From our first meeting with Anshul & Varun, it was clear they were solving a problem that all of us have experienced and were committed to doing it right," said Sanjay Swamy, managing partner, AngelPrime.
Founded in 2011 by Sanjay Swamy along with Acharya and Bala Parthasarathy, AngelPrime is investing out of its maiden under $10 million fund.
Recently it invested $500,000 in Chennai-based IoT and machine-to-machine (M2M) technologies firm Nimble Wireless Pvt Ltd.

AngelPrime's  portfolio companies include cloud telephony startup ZipDial (acquired by Twitter); mobile PoS firm Ezetap; online marketplace for talent discovery and recruitment HackerEarth; online marketplace for asset sellers and buyers SmartOwner; and local web marketing solutions startup Synup.
(Edited by Joby Puthuparampil Johnson)
---