Exclusive: Spam blocker & local business search startup Phone Warrior raises pre-Series A round from Lightspeed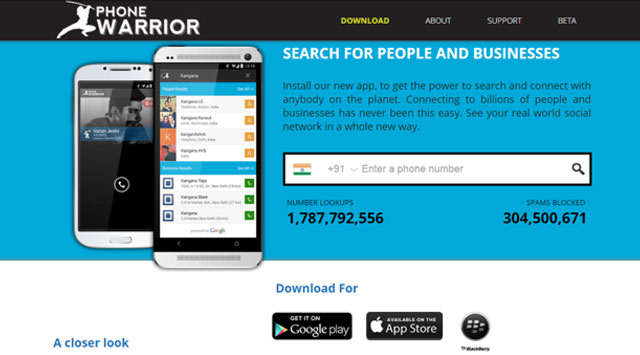 Delhi-based startup Phone Warrior Inc, which offers a spam control app by the same name and has recently added a local services search directory to its mobile number locator app Toost, has secured a pre-Series A round of funding from existing investor Lightspeed Venture Partners, co-founder of the firm told Techcircle.in.
In December 2013, it had raised seed funding of around $550,000 from Lightspeed and with the new funding it has raised around $1 million in total.

The funds will be used for technology development, marketing and to scale up the team.
Toost is a mobile application that helps users find service providers that have been used and recommended by friends. It does that by using a user's phone graph from the phone's contacts, call flow and location data.
It delivers results sorted by level of connection with the business. Direct connections are followed by friends' network connections and out-of-network connections.

Toost also offers call blocking functionality, allowing users to block spamming businesses. Call logs within the app help identify service providers including the ones not stored in the phone book.
The company was founded in early 2013 by Chandan Gupta and Vaibhav Padlikar. Padlikar moved on and Rohit Raghav (previously worked as a manager for growth and strategy at Accenture) joined Phone Warrior as a co-founder in January 2015. Before setting up Phone Warrior, Gupta had co-founded a social media website Rambhai.com.
Currently it has a team of 17 people. The company claims that Toost has about 5 million businesses listed on its platform which include restaurants, hospitals, plumbers, electricians and carpenters. It claims to have 1-5 million downloads on Android.

The firm claims it is getting close to 10,000 downloads a day.
Rohit Raghav, co-founder, Phone Warrior, said the firm is targeting a multi-billion dollar market. He pointed out that Toost does not have a marketplace model and is community recommendation driven search directory and considers Just Dial and Google Local services as its competitors.
Indeed, Lightspeed has backed a marketplace in the same domain when it partnered Tiger Global to invest $5 million in LocalOye. In a marketplace model, the startup also directly connects and in some cases even allow online booking of such service providers.

Meanwhile, Phone Warrior does not have a monetisation strategy yet. However, it plans to generate revenue from advertising and lead generation.
Another player which offers similar service is Frilp which lets a user post a query and lets the user's friends or their friends suggest the best service provider.
Local services marketplace has become a hot vertical with a bunch of startups getting funding in quick succession. These include UrbanClap, TaskBob, Near.in, Qyk and FindYahan besides LocalOye.

Till now, the fragmented and unorganised local services market was being served through local business listing such as Just Dial. In that model, users received phone numbers and also got direct calls from professionals after they posted their requirements.
(Edited by Joby Puthuparampil Johnson)
---