Happiest Minds hits annualised revenue run-rate of $50M; 100+ customers to end FY15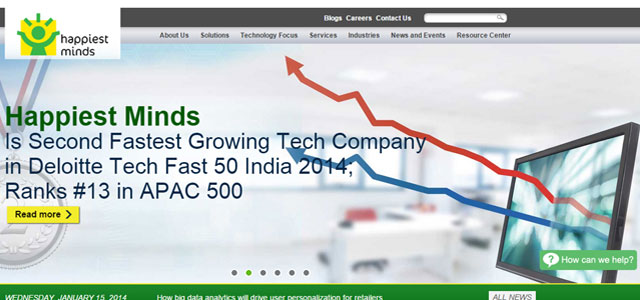 Bangalore based digital domain focused IT services startup Happiest Minds Technologies said on Monday that it ended the last fiscal with annualised revenue run-rate of $50 million and achieved break-even last quarter.
This essentially means it clocked revenues of around $4.2 million or around Rs 26 crore last month.

It claims to have built a base of over 100 customers and a team of 1,450 people specialising in disruptive technologies.
Happiest Minds was launched in August, 2011 by IT industry veteran Ashok Soota and a team of industry experts who had previously co-founded Mindtree. It has positioned itself as a next-gen IT solutions & services company, enabling organisations to capture the business benefits of disruptive technologies of cloud computing, social media, mobility solutions, business intelligence, analytics and unified communications.
It caters to the industry sectors such as retail, consumer packaged goods, e-commerce, banking, insurance, hi-tech, engineering R&D, manufacturing, automotive and travel & transportation.

The company also recently appointed Sashi Kumar as the CEO & MD to further drive its growth.
"Our $50 million revenue rate, 100+ customers base and team size of 1,450 are all record levels for an Indian IT services company in first three years from commencement of operations," said Ashok Soota, executive chairman, Happiest Minds Technologies.
Happiest Minds has also set the target of becoming the fastest Indian IT services company to achieve $100 million in revenue with a focus on going public within the next four years.

It achieved $20 million revenue run rate in FY13.
"Multiple offerings focused on agile infrastructure and modern enterprise solutions for digital transformation shall be the overarching strategy of Happiest Minds," said Sashi Kumar, CEO & MD, Happiest Minds Technologies.
The company also has operations in the US, UK, Singapore and Australia and had hit headlines three years ago for securing a record $52.5 million Series-A funding. Its investors include JPMorgan Private Equity Group and Intel Capital. It's Series A funding round had also seen co-founder Ashok Soota pitch in with money.

---