Naspers-owned Ibibo Group enters carpooling business with new app Ryde; takes on BlaBlaCar, Tripda & RidingO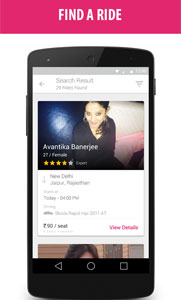 Online travel group Ibibo has launched a carpooling app named Ryde that lets users share rides and travel cost. Ryde operates in the similar space as international ventures that launched in India recently- BlaBlaCar and Rocket Internet's Tripda- but stands out as it is offering the service for both intra and inter city rides.
Early this month, Carzonrent acquired one local intra-city ride sharing venture RidingO.
Passengers can search for registered members on the app offering rides, book their ride and preferred seat, make the payment, chat with the driver and decide the pick-up location. On the other hand, the app allows drivers to choose their source, destination and seat fee/price. They can search for requests by passengers who are looking to share ride with them in the same direction of travel and pick their passengers.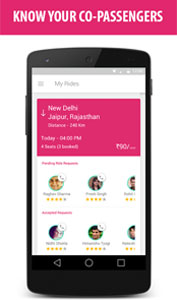 Both passengers and riders can review each other as the ride ends. It also gives a history of the past rides.
The app allows users to check verified member profiles, send messages before or after booking requests, send chat messages, and real time tracking of the driver and vehicle. Drivers can create custom preferences on waiting time, detour, luggage size, music, smoking etc.
Verification is basically done through the Facebook profile of users which shows information such as profile picture, name of their work place, school/college, and email address. The app is available for both iOS and Android.

The application has featured prices for rides to cities around Delhi such as Delhi-Agra, Delhi-Jaipur, Delhi-Chandigarh in the range of Rs 90-99. A search for rides between Mumbai-Pune and Bangalore-Mysore did not elicit any result on the app, suggesting Ibibo is doing a pilot in Delhi.
We noticed there are few others apps with a similar name with one in same domain of ride sharing but based in Singapore and another in India but focusing on airport pick-ups.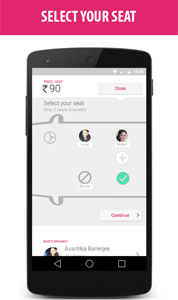 South Africa's media and internet powerhouse Naspers-backed Ibibo Group had acquired the Bangalore-based online bus ticketing company redBus.in in 2013. In addition, the company also operates B2C travel aggregator Goibibo.com and has a major stake in the B2B online travel platform travelboutique. Recently it pulled the plug from its hyper-local grocery e-tailing venture Tradus.

Ride sharing is not new to India. It has been there for several years albeit in an unorganised market specially with commutes between suburbs. Several cabs run by BPO firms already pick-up standalone travellers on the way back from dropping BPO employees in Delhi-Gurgaon belt for instance.
The space witnessed entry of two big international players over the last six months. French ride-sharing cab service BlaBlaCar that has a strong presence across Europe, Russia and Turkey, had launched its India operations earlier this year. The company has around 10 million registered users across 13 countries and organises 2 million rides every month, it claims.
Rocket Internet-backed carpooling marketplace Tripda entered the Indian market towards the end of last year. Tripda operates in a number of other countries including Brazil, USA, Argentina, Colombia, Taiwan, Malaysia, Singapore and Philippines.

Both these ventures offer inter-city or city to city rides-haring.
A local player is Bangalore-based ride sharing app RidingO that was recently acquired by Carzonrent India Pvt Ltd, which runs radio cab services besides offering self-drive car rental and fleet management services. RidingO claims to have 8,500 registered users in Bangalore and enables over 400 trips per day. Car Pool and Let's Drive Along are some of the other apps offering similar service in the country.
---