Paytm's big day: railway ticketing platform IRCTC adds Paytm wallet as a payment option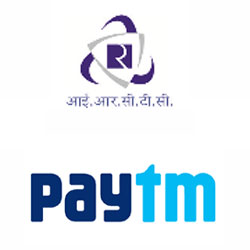 Government-owned railway ticketing platform IRCTC, which is the one of the most used internet commerce site in the country clocking on an average over half a million tickets a day, has added Paytm's wallet as an online payment option.
IRCTC, the primary seller of railway tickets online (others OTAs act as secondary link) in the country, has been offering various online payments options besides the conventional credit/debit cards and net banking. It allows payments through cash cards, its own co-branded pre-paid Rupay card with Union Bank and with Paytm wallet it adds another payment option.
Last we checked the Paytm payment option was integrated on IRCTC's web portal but was not yet available on its mobile app on Android.

The development means a big move for Paytm as it is already available as an alternate payment option in several key internet ventures such as the country's top online food ordering venture Foodpanda, cab hailing app Uber (in India), eBay and Jabong.
Owned by One97 Communications, Paytm claims it has 60 million wallet holders with 21,000 merchants. It processes more than 60 million orders of various digital and physical goods every month.
Although IRCTC has come a long way in terms of streamlining online payment process on its site, given the huge load on its servers it is not uncommon to see payment failures in a multi-authentication process which comes with a credit and debit cards.

Paytm wallet would look to capitalise in partly solving this pain point for users and hopes to also expand its reach in tier-II and tier-III markets, where trains are a primary mode of long distance travel and IRCTC by default is the booking platform.
It recently added mobile marketplace app for merchants in a move to help marketplace operations make up half of its total revenue target of $4 billion by the end of 2015.
Founded in 2000, One97 is a leading mobile-internet company in India that offers digital goods & services to its mobile consumers under the Paytm brand. It also provides mobile advertising, marketing and payments for merchants. Paytm claims that its m-com platform has more than 18 million users, and gets 20 million orders a month.

Early this year it got $635 million investment commitment from Alibaba and existing investor SAIF Partners.
---