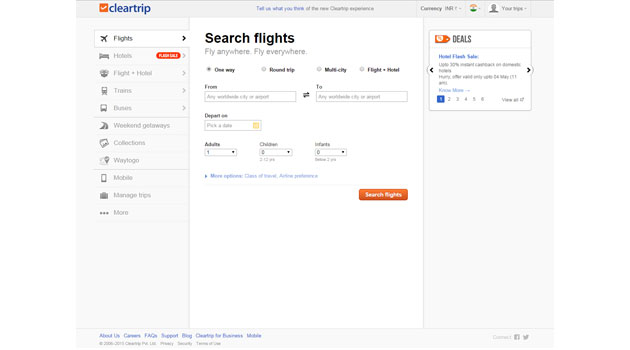 Cleartrip, one of the top tier online travel services firms in the country, said mobile generated over 53 per cent of its total traffic in the January-March 2015 quarter.
Here's some other quick nuggets from it's Quarterly Mobile Insight.
The firm said over 70 per cent of it's mobile customers are now using mobile as their only channel for transactions.
Cleartrip's claims its transactions grew by 214 per cent year-on-year where mobile now accounts for 40 per cent of the total bookings at an average transaction size of Rs 8,000.
The firm said 47 per cent contribution to it's mobile traffic comes from 'mobile web' which means mobile apps is bringing just over half of the total mobile traffic.
Consumer internet ventures, including OTAs, have been pushing their users to access their sites through the mobile. They claim mobile users have better conversion rates in terms of transactions.
Several firms have been offering additional discounts to users for buying products through their mobile apps to push mobile usage further. Indeed, some top e-commerce platforms in the country have been mulling moving completely to mobile apps in the near future. Some have also shut down their mobile site versions.
Cleartrip's data shows still a significant section of users are accessing mobile sites instead of specially crafted mobile apps which require smartphones. Mobile sites, in comparison, can be accessed by even feature phones with internet connection.
According to a report by consulting firm Boston Consulting Group, India will see more than 580 million people going online by 2018 out of which 70-80 per cent will be accessing the web on mobile phones.
---