Maharashtra state drug regulator calls for police complaint against Snapdeal for selling prescription medicines online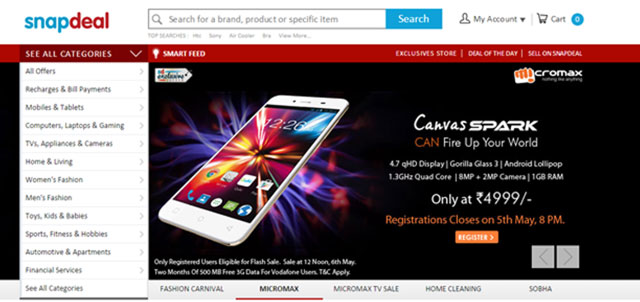 West-Indian state Maharashtra's Food and Drug Administration (FDA) has ordered filing of FIRs against online retailer Snapdeal.com, as also against CEO, directors and distributors, for online sale of prescription drugs.
FDA Commissioner Harshadeep Kamble said investigations into other e-commerce giants like Flipkart and Amazon are also under progress to ascertain if they are also involved in such sales.

Last month, FDA had raided premises of Snapdeal here following complaints about sale of medicines, including prescription drugs, through its website.
Kamble told reporters that FDA has ordered filing an FIR against all concerned persons involved, including Snapdeal CEO Kunal Bahl, other directors of the company and distributors of the drugs.
When contacted, a Snapdeal spokesperson said: "In this matter, we are assisting the FDA team in this investigation and we will continue to do so. We have already delisted the products and said sellers and also stopped payment, in addition to providing all information to the FDA team as required by them."

"Jasper Infotech Pvt Ltd, through Snapdeal.com offered for sale, exhibited for sale Vigora Tablets 100, a drug containing Sildenafil citrate, to be sold on the prescription of a registered medical practitioner ? specialist endocrinologist, venerologist, psychiatrist, dermatologist," Kamble said.
The drug was sold by "Mittal Pharma, Kota, Rajasthan, a seller in agreement with Jasper Ascoril Expectorant", without prescription, he said.
"The drug was also sold by Rishabh Enterprises, New Delhi, a seller in agreement with Jasper, to a customer Amrut Bhagat of Panvel in Maharashtra's Raigad district through a courier in agreement with Jasper, who collected the cost of drug for Jasper," he said.

The officer said Jasper Infotech through Snapdeal.com exhibited and offered for sale UNWANTED-72 sold by Horizon Medicals, Bangalore, and I-pill, sold by Giriraj Pharmacy in Gujarat's Gandhinagar, sellers in agreement with Jasper.
The offence carries imprisonment of 3 to 5 years with fine of not less than Rs 1 lakh, he added.
FDA has filed an FIR against the persons concerned with Panvel police station, he said.

FDA has also sent letters to State Drugs Controllers for action against the concerned people in their states, Kamble said.
The contraventions include sale of drug without licence - Sections 18 (c), 18A, rw rules 65 (3), 65(11), 65(17) punishable under Section 27(b)(ii), 27(d) of Drugs and Cosmetics Act, 1940; and Sections 3 and 4 of Drugs and Magic Remedies (Objectionable Advertisements) Act, 1954, the FDA chief said.
A special investigation team was formed to look into the issue of violation by Snapdeal, Kamble added.

The godowns of the company were searched on April 16 and 20, he added.
It was revealed that Jasper Infotech entered into agreements with different dealers of medicines located all over India to supply the medicines offered/exhibited for sale on Snapdeal.com and to collect the sale proceeds by Snapdeal on their behalf, the officer said.
It was found that the e-commerce major displayed and offered for sale about 45 drugs with objectionable claims which contravenes the provisions of Drugs and Magic Remedies (Objectionable Advertisements) Act, 1954.

"Despite written commitment, it was found that Snapdeal continued to offer, exhibit for sale and sale of drugs, namely, I-pill and 'Unwanted 72', emergency contraceptive drugs, through its website," he said.
Kamble said he had asked the FDA team to purchase the drugs online and accordingly drugs I-pill and Unwanted 72 were received on April 24.
"This activity is contravening the provisions of Section 18 (c), 18A of Drugs and Cosmetics Act, 1940 and Sections 3 and 4 of Drugs and Magic Remedies (Objectionable Advertisements) Act, 1954," he said.
"Only a licensed retailer can offer for the sale of Schedule H drugs, and that too only on the basis of prescription of doctor. Such type of online sale of drugs is not allowed as per the Act," the FDA chief said.
The Snapdeal spokeperson said the website acts as an intermediary between sellers and buyers of the products listed on the platform.
"Though we invest significantly in educating sellers on engaging in fair and safe sales on the platform and consequences of selling inappropriate products, at times sellers end up listing such products.
"Upon being notified of any such products, we delist the products and take appropriate action against such seller," the spokesperson said.
---