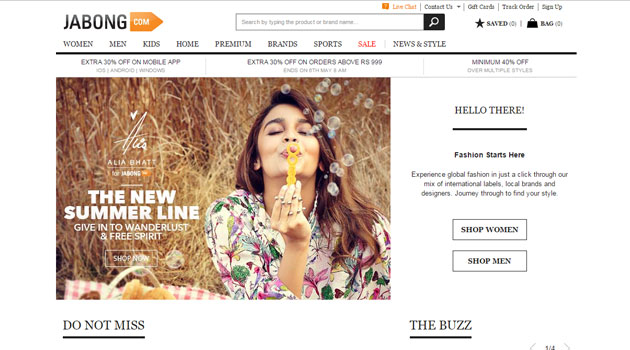 Rocket Internet-incubated lifestyle e-tailer Jabong.com more than doubled its gross merchandise value (GMV) to Rs 1,320.6 crore during the calender year ended December 31, 2014.
The firm's GMV captures value of total transactions, excluding taxes and shipping costs but including value of paid vouchers and coupons. The firm had ended 2013 with GMV of Rs 511.4 crore, data pulled from its latest annual statistics show. The data is net of returns and cancellations.
What is interesting is that its marketplace, where third party vendors use its platform to sell to consumers, grew faster compared to its own direct sales, at least in term of the transaction volumes.
Jabong shipped 8.7 million orders last year of which 5.9 million transactions represented products sold by Jabong while another 2.8 million orders or close to one in three orders were through its marketplace.
This means the firm handled on an average 23,835 orders a day last year as compared to 16,164 in 2013.
The company's net revenues (which captures the sales by the firm as against GMV which includes sales by third party vendors too, for which the company just gets a listing fee) grew 2.3x to Rs 811.4 crore last year.
Meanwhile, its loss at an operating level as captured by EBITDA (adjusted for share based compensation) rose to Rs 454 crore as against Rs 236 crore in 2013.
This means, for every Re 1 worth of sales it books directly (not covering third party vendors), it is losing around 56 paisa. This is still an improvement over the previous year when it was booking operating loss of over two thirds (68.5 per cent) of whatever it sold.
The firm did see its cash position dwindle as a result ending 2014 with Rs 289.4 crore as against Rs 853.2 crore the previous year.
Jabong, which had earlier explored talks to sell the business to Amazon, is now part of a new holding firm Global Fashion Group (GFG), which also houses four other online fashion e-commerce startups backed by tech incubator cum investor Rocket Internet and Swedish investment firm Investment AB Kinnevik.
Apart from Jabong, GFG houses Dafiti (Latin America), Lamoda (Russia and CIS), Namshi (Middle East) and Zalora (South East Asia and Australia) covering 27 countries in total.
Jabong is one of the two top lifestyle e-tailers in India, along with Myntra. Myntra was acquired by Flipkart last year.
---